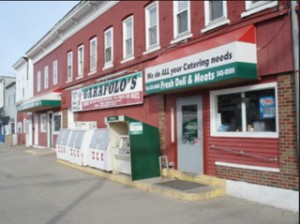 Garafolo's has been providing Oswego with authentic Italian food since 1960. Family owned for three generations, the catchall, down and dirty shop located at 159 E. Bridge St. offers an array of foods.
The shop's variety attracts locals as well as college students. The majority of college students traditionally come for the well-known subs. The large chalkboard displays the menu choices and each person fills out a slip of paper with their order. All sandwiches are made on freshly baked Italian bread. Depending on how hungry you are, you can choose a sub roll, a half loaf, or if you're really feeling hungry you can tackle a whole loaf loaded with toppings of your choice.
There are hot and cold sub options. All the meats are imported from around the world, some as far as Italy.  Sandwiches can include ham, turkey, cappy, roast beef, salami, swiss, provolone, mozzarella, chicken parm, meatball, buffalo chicken and much more.
The locals are usually attracted by the assortment of fresh meats. Garafolo's specialty is its mild sausage, which is made in-house with the family's secret recipe. Also made in-house are different kinds of delicious cookies such as s'mores, peanut butter chunk and M&M. The tasty mac salad and pasta salad is also a secret family recipe from generations back.
Garafolo's  is owned by Tom, Joe and Joey Garafolo. Joey, Joe's son, says the owners don't consider Oswego Sub Shop their biggest competition. He explained that in this economy, no one is their competition except for themselves.
Not only does it offer subs and meats, Garafolo's has the feel of a convenience store with stocked shelves ranging from chips and dips, candy,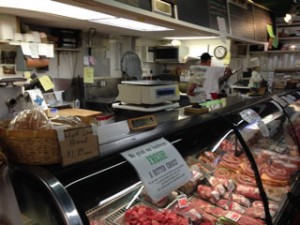 coffee, ketchup, cereal and sugar. It also has beer and other alcoholic beverages, as well as sodas and juices. Garafolo's even offers catering services. It caters for all needs offering chicken, roast beef, baked ziti, lasagna, pulled pork, wings, ham, potatoes and much more.
Along with all of these, the have-it-all-shop also has a dine-in seating area to enjoy food. The Garafolo family moved to Oswego from Syracuse in 1960 and is keeping family tradition going.
I strongly recommend trying Garafolo's. I've been there many times and have never been disappointed. It is great for so many occasions: grabbing a sub for lunch, picking up sausage for dinner, steaks for a family barbeque, or even stopping in for some ice cream and late night snacks.
Garafolo's is open daily from 8:30 a.m.-10 p.m.