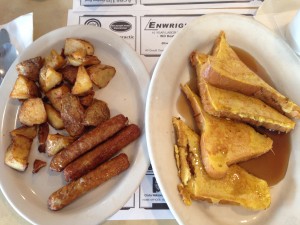 My first time going to The Ritz Diner located on West First Street in Oswego was a great experience. The Ritz Diner is a very popular diner for college students and reportedly "the best breakfast place in Oswego."
I went with my friends and my RM. Beforehand, my RM let us know that we had to bring cash, because that is all they take. There is an ATM right outside, but it has a $3 charge.
We had to wait about five minutes to be seated, because there were six of us. We all ordered drinks, and quickly decided what we wanted because everything looked so good. I ordered french toast, three of my friends got omelets, and they got to choose what they wanted in them. One of my friends got a hamburger with french fries, and another ordered chocolate chip pancakes. We were all amazed by the "short stack" of pancakes, because it was the size of the whole plate. I wondered what a big stack of pancakes would look like.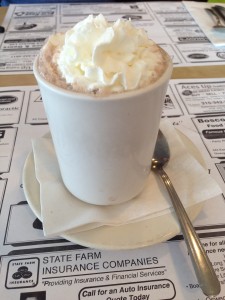 Everybody in our group enjoyed their meals. I was really surprised that my meal only came to 7.29. In total I had hot chocolate, french toast, home fries, and sausage.
The service at The Ritz Diner is average; it isn't great, but it is decent for college students who want a big breakfast for a low price. I would recommend The Ritz Diner to anybody who likes breakfast food.
The Ritz Diner is open 6 a.m. to 8 p.m., Monday through Saturday, and 6 a.m. to 7 p.m. on Sunday.