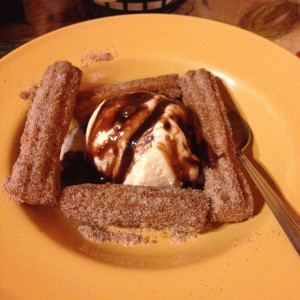 I have been to Azteca Mexican Grill a couple of times, so when my aunt and cousins came to visit me for the night, I knew this would be the perfect place to bring them for dinner, because it has been so good my previous visits. We had to wait about fifteen minutes to get a table; it was very busy that Thursday night. We soon realized why: it was margarita night. The fifteen minutes we had to wait was definitely worth it.
When we were seated, we immediately got warm, crispy chips with salsa. We added some salt, pepper, and hot sauce into the salsa to make it more spicy. We ordered two cheese quesadilla dinners with rice and beans on the side, a burrito special, and the enchilada supreme. My aunt and cousin loved their burritos and enchiladas. We all shared with each other, and almost all of it was gone by the time we were finished.
Unfortunately, mine and my cousin's dinners got messed up. We each wanted cheese quesadillas for our dinners, but they thought we wanted just one quesadilla, which you would order from the side menu. For dinners, they do chicken or beef quesadillas. We told the waiter, and he was very sorry for the misunderstanding, and got the order switched immediately. About five minutes later, our cheese quesadillas with rice and beans came out. They were so good; my cousin and I were both so full afterward. We were all happily pleased with our meals.
When we were done with our meals, we took a peek at the dessert menu. After seeing what choices were available, my cousin and I knew we had to try something. I got churros, and my cousin got caramel cheesecake. The churros came with vanilla ice cream and chocolate syrup on top. They were so good. We all loved them. My cousin loved her cheesecake. I'm not a huge cheesecake fan, but I thought it was very tasty. Both desserts were all gone before we left.
When we got the bill, we were surprised that it was only $44. We all thought that was a decent price for everything we got.
Students are welcomed anytime at Azteca. For college students over 21, Azteca has margarita night every Thursday. This is a great place for friends to get together.
Azteca is open 11 a.m. to 10 p.m., Monday through Saturday.