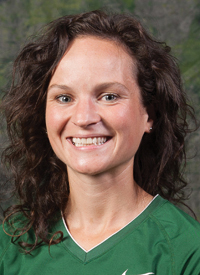 Stephanie Grimm looks to continue her success as head coach of both the men's and women's cross country teams in her third season at Oswego State.
Grimm joined the Oswego State staff after earning her bachelor's degree in leisure and sports studies in May 2010 at Kutztown University.
At Kutztown, she was a member of the 2009 NCAA Division II Cross Country Championship team that placed 14th and provisionally qualified for the 2010 NCAA Division II Indoor Track and Field Championship in the mile (5:01.48). She also competed at the 2010 NCAA Division II Indoor Track and Field Championship in the distance medley relay as the 1200-meter leg.
Grimm was a two-time U.S. Track and Field Cross Country Coaches Association and a one-time USTFCCCA Track and Field All-Academic honoree. She went on to finish her master's in sport management and served as a cross country and track and field graduate assistant at East Stroudsburg University.
Grimm also developed and implemented training programs for the women's middle-distance squad. She recruited female middle-distance and distance student-athletes and assisted in practice and meet management.
She wanted to start coaching because she had two great coaches at Kutztown and had a great experience competing collegiately. She knew she wanted to have a job that she looked forward to every day and wanted the opportunity to make a positive impact on student-athletes and a cross country/track and field program.
Grimm decided to join the Oswego State staff because she liked the idea of being able to coach year-round. She also enjoys being able to work in other capacities within the department, as she is also an academic support assistant for athletics.
Grimm has managed to find the perfect formula to coach both the men's and women's teams.
"People always ask if I have to talk to the guys differently than the girls, and vice versa," Grimm said. "The differences exist much more on an individual level, rather than between genders. Each of my athletes responds to training and feedback in his or her own way."
Coaching at Oswego State has been rewarding for Grimm. She took over as head coach after former coach Bobby Wilson left less than one month into the 2011 season, allowing her to step into her current role.
"Going into my third year at Oswego, I see a huge culture change in the cross country and track and field teams and am happy to have been a part of the rebuilding," Grimm said. "I really enjoy being a part of the campus and community."
Looking forward, Grimm expects both the men and women to continue to progress.
"This is the most solid we have been on both sides since I arrived at Oswego," she said. "The men are very motivated this year because we will be graduating at least six of our top guys, making this year 'the year' to accomplish some big goals. The women are young and have a real passion for the sport and competing. We are looking to move up in the SUNYAC this year, which is always challenging due to the strength of our conference in cross country. I believe in their ability to do that."
The men's team has had three fourth-place finishes to start the season, while the women's team has had a first, fourth, and sixth-place finish. Both teams are scheduled to compete in the Geneseo Pre-Regionals race on Oct. 5.