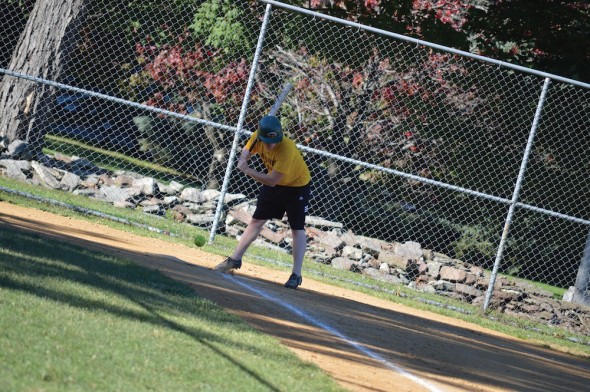 After an exciting start to the campus recreational sports season, intramural flag football is underway with 25 teams playing in the competitive league, five in the recreational division and four squads in the co-rec division.
Two teams have started the season 2-0 in the men's competitive division, Channel 5 News and The Guild.
The Guild has proved to be tough to beat in its first two contests after blowing out Tebow Time 42-0 and Tuel Time 41-0. Meanwhile, Channel 5 News has had two tightly-contested matchups, but recorded two wins nonetheless.
It knocked off Balls Deep 21-12 and Monstars 19-6. Eight other teams are also yet to lose this season after a series of opening-day wins.
In the men's recreational division, Eskimo Brothers are the only unbeaten team thus far with a record of 2-0 after victories against McStuds and Hernandez' Pistol Offense. In the co-rec league, Daddie$ are 2-0 after defeating We Touchdown There and Ball Crushers.
Other flag football results this week included Saltine Warriors defeating Team Ramrod 20-6, Team Phoenix over Dirty Bird and the Boys 38-12, Hell Hounds outlasting TC Titans 12-8 and 4 Rip manhandling Rolltiders 47-0.
Meanwhile, in the intramural softball league, things are beginning to heat up as the playoffs inch closer.
In the co-rec competitive division, WTOP and Athletes are still unbeaten at 3-0 after knocking off Funnelle All-Stars, 8-7, in a tight contest, while the latter fell to 2-2.
Right on the heels of WTOP and Athletes is RIP C Boys, who at 3-1, are just a half-game back. In their only contest this week, RIP C Boys defeated Honey Nut Ichiros by a final of 12-7.
In the men's competitive division, Rolltiders are the last remaining unbeaten team at 5-0 and will go into the playoffs undefeated. This week, the team captained by Paul Harnish, overcame Flying Dutchmen, 13-9, and Ball So Hard, 15-3, to close out the regular season.
Just behind Rolltiders in the standings are The Guild at 5-1 and Angels in the Troutfield with a 4-1 record.
Angels in the Troutfield was victorious against Team USA 11-5 and won, via forfeit, against Flying Dutchmen this week.
However, winning did not come easy for The Guild.
Down by four in the bottom of the fifth inning, The Guild had to put on its rally caps to come from behind for the win. It scored five runs in the fifth inning, which was capped off by a two-run double by Ignatius Trentanelli, to give it a hard-fought 15-14 win.
In the Campus Recreation game of the week, The Monstars were able to put together an epic final-inning comeback over Team USA by scoring 10 runs in the final frame to pull off an improbable 18-17 come-from-behind win.