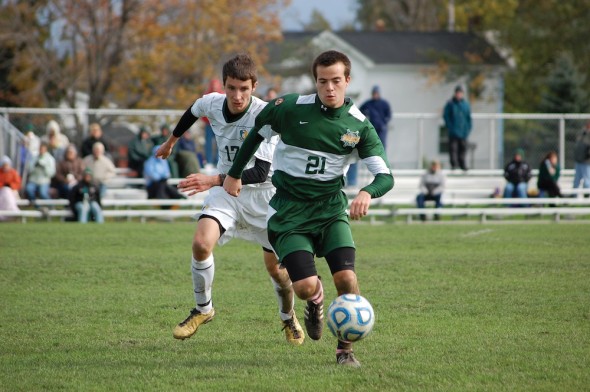 Oswego State men's soccer captain Brendan Beisner remembers scoring his first goal as a freshman: a game-winning header against Morrisville State.
Now, he wants to facilitate similar goals as the Lakers push for a postseason berth.
While the Lakers (0-5-1) are winless in 2013, Beisner feels what is holding the Lakers back is not physical issues, but rather mental issues. Maintaining focus is key for the Lakers squad, Beiser said. He also understands the improvements have to come soon as conference play gets under way Friday.
"These are some important games coming up and we have to start getting some W's," Beisner said. "We have great possession. We just need to bring it to the final third."
A large factor in finishing in the offensive zone is communication. The Oswego State senior midfielder said he is on the same page with head coach Bob Friske in stressing communication on the pitch.
According to Beisner, both he and Friske believe it all starts in the back with the goalie and defensemen. The back five have to communicate with the midfielders who in turn find the forwards heading for the goal.
Another area where Beisner and his head coach are in agreement is the importance of taking underclassmen beneath their wing, Beisner said. Beisner is big on the whole team having the same vision for each game.
"Overall, I feel like we all just need to buckle down, play like it's our last game and we'll succeed," Beisner said. "You just can't have six or seven seniors on a team. You have to have a whole team and everyone has to play as a senior, even the freshmen."
In addition, the West Islip native, known as the team's motivational captain, wants to instill a mentality of school and team pride in both the locker room and on the field.
He feels that even in practice, the Lakers have to give it their all, because it all relates back to what happens during the game.
"Once you've crossed the white line you have to give 110 percent for your school and your teammates," Beisner said. "Ultimately, if we do that, we can make a run."
A year removed from his team missing the SUNYAC tournament by a single point, Beisner believes Oswego State is a talented team capable of making a run this season.
He thinks the team could surprise folks in the postseason and he chose his number this year as a symbol of his great desire to make a run.
Beisner had been number 11 since he first started travel, but in 2013 number 10 became available and he jumped at the chance to take it.
The number is synonymous with most team's best playmaker and the Laker center midfielder wants to be that player on his team.
"I want to be the player that provides chances for our team," Beisner said.
While the Lakers have struggled out of the gate, Beisner is doing his part and contributing on the field.
He is currently ranked second on the team in points with two. He is also tied for the team lead in goals with one.
Oswego State kicks off SUNYAC play on its home pitch this weekend with a pair of matches as a part of the Alumni Weekend festivities.
The Lakers' first contest will be Friday at 4 p.m. against SUNY New Paltz (1-4-2) at Laker Field.
The home stand will end against SUNY Oneonta (4-2-2) Saturday at 1 p.m. The Lakers will then head on a four-game road trip before returning home on Oct. 18 against The College at Brockport.