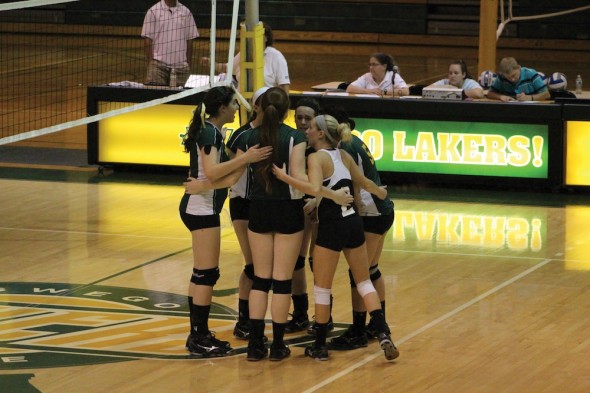 The Oswego State volleyball team won all four of its games in the Oswego State Fall Classic to sweep its way through the competition en route to its 6th straight win and an 11-6 record.
In its opening match with Alfred State College, Oswego State cruised to a 3-0 win (25-17, 25-15, 25-16). Freshman Emma Moriarty led the charge with a match-high eight kills while also contributing five digs and a block.
Sophomore Rachel Ruggaber had a match-high 14 digs, while senior captain Sabrina Sutton also hit the double-digit mark with 10 digs. Sutton reached double-digits in kills as well with 10. Freshman Meaghan Roefs added four kills.
Junior Stephanie Bailey killed six attempts for the second-highest mark of any player in the contest. Freshmen Lauren Edwards led the team with 26 assists.
Oswego State's second match against Elmira College was closer. After the Lakers took the first two sets, the Soaring Eagles rallied to tie the match at two. However, Oswego State would not crack under pressure as they staved off Elmira to protect their home court with an exciting 3-2 win (25-23, 25-22, 18-25, 25-27, 15-12).
Freshman Megan Russell led the Lakers in kills and blocks this time around with 15 and 10, respectively. Bailey once again recorded the second-most kills for the squad with 10. Bailey also dished out six blocks.
Roefs aided in the blocking effort, stopping one on her own while assisting on nine others. Oswego State set a new school record for block assists in the game against Elmira.
" I felt like our right sides and middles were doing a great job pressing over the net to thwart the opposition's attacking," head coach J.J. O Connell said.
In the third match of the weekend, Oswego State beat conference foe SUNY Geneseo on Saturday in four sets, 3-1 (25-22, 17-25, 25-21, 25-21). Moriarty led the squad with 15 kills. Bailey and Sutton each had 10, while Russell contributed eight along with Roefs' five.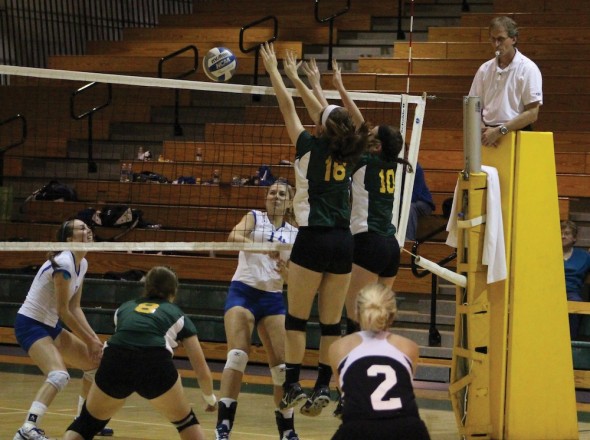 Edwards had 36 assists and three aces, while freshman Lindsay Champitto had seven kills. Sutton had two aces while senior captain Meaghan Puff and sophomore Megan Dignan both had one.
"I felt like we got some better production from Emma Moriarty and Sabrina Sutton this past weekend," O'Connell said. "Our setters, Lauren Edwards and Lindsey Champitto, continue to do a nice job running the offense and we're getting a good number of kills per set based on the work that those two are putting in."
In the last contest of the Fall Classic, the Lakers defeated Hamilton in come-from-behind fashion in five sets, 3-2 (18-25, 9-25, 25-13, 25-13, 15-13). The Continentals gained a quick 2-0 lead after controlling the match throughout the first two sets.
However, Oswego State would not go down without a fight. The Lakers regained composure and rode their defense to victory, not allowing Hamilton to pass the 13-point mark in any of the last three sets.
"On defense, Meaghan Puff, Rachael Ruggaber, Morgan Lavner and Megan Dignan anchor a unit that is becoming downright stingy in terms of letting balls land on the court," O'Connell said. "Our defense is definitely one of our greatest strengths."
Bailey led the team in kills with 11. Moriarty contributed seven and Sutton added six. Russell and Roefs both had four. Edwards recorded a team-high 30 assists, while Champitto added six more. Sutton and Morgan Lavner both had two service aces.
"We, as a team, played well this weekend," O'Connell said. "Going forward, we have our opening weekend of SUNYAC conference play this weekend at Cortland. We will have nine conference matches over the course of the three conference weekends and I think it'll take five to six wins to get into the six-team conference tournament at the beginning of November."
O'Connell knows the challenges that lie ahead, but is excited nonetheless.
"The conference is going to be extremely balanced this year and every match should be a grind," he said. "It's very exciting for us coaches since every match will be very competitive."
The Lakers (11-6) are currently a half-game behind SUNY New Paltz (11-5) for first place in the SUNYAC as they head into conference play this weekend.
Oswego State will return to action when it travels to SUNY Cortland for its first taste of SUNYAC pool play.
The Lakers will take on the Red Dragons Friday night at 5 p.m. before a doubleheader against SUNY Oneonta and SUNY Potsdam on Saturday, which will begin at 12:30 p.m.
Oswego State's next home game will be on Tuesday. The team will be hosting Keuka College.