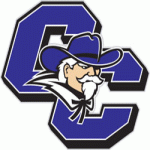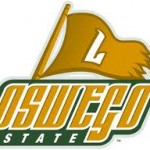 Tied at one late in the third period, the Oswego State men's ice hockey team got back to its winning ways with two late power-play goals en route to a 3-1 victory over Curry College on Friday night at the Campus Center Ice Arena.
Junior forwards Luke Moodie and Jon Whitelaw each scored power-play goals for the Lakers, who were attempting to start the new year much differently than the way they closed out last year against Neumann University. Moodie recorded two assists as well for a game-high three points.
After a scoreless first period, junior defenseman Zack Josepher got the Lakers on the board at 1:35 of the period with his second goal of the season. Junior defenseman Jesse McConney and Moodie were credited with the assists on the play.
Curry struck back to tie the game at one at 12:12 of the second period on a goal by Joshua Pineiro. Michael Sullivan received credit for the assist on Pineiro's goal.
Neither team would find the back of the net for the next 22 minutes until Whitelaw gave Oswego State its second lead of the night at 14:11 of the third period. Whitelaw's goal was the first power-play goal tallied in the game. Following an elbowing penalty by Michael Curran, Whitelaw received a pass from junior forward Chris Muise and beat Curry goaltender Joe Dawson for the goal. Moodie earned the secondary assist on the game-winning goal.
The Lakers added a second power-play goal at 17:41 to give Oswego State a two-goal lead. After Curry's Brett Kaneshiro was called for holding, Whitelaw found Moodie, who registered his eighth goal of the season. Both Moodie and Whitelaw have recorded eight goals this season. McConney earned the secondary assist on the play, giving him a two-point night.
The last time the Lakers took to the ice, they committed 56 penalty minutes in the third period alone. On Friday, Oswego State committed just two penalties in the third period for a total of four penalty minutes. The Lakers finished with four penalties for eight total minutes, but held Curry without a power-play goal in four attempts. The Colonels were called for eight penalties for 16 total minutes.
Junior goaltender Dan Jones finished with 30 saves on 31 shots faced to earn his second win of the season. Dawson finished with 31 saves on 34 shots faced in a losing effort for Curry.
The Lakers play host to Utica College on Saturday, Jan. 14, at the Campus Center Ice Arena in a non-conference game. Utica handed Oswego State its first loss of the season when the two teams met in Utica back in October.