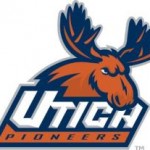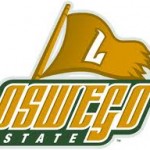 In a rematch of two top 10 teams that met back in October, it was the Oswego State men's ice hockey team that would come away with a victory in the second meeting between the Lakers and Pioneers. Junior forward Tyler Leimbrock scored twice and Oswego State tallied three goals in the second period to pull away from Utica College, 5-2, on Saturday night at the Campus Center Ice Arena.
Back on Oct. 29, the Pioneers handed the Lakers an early season loss at the Utica Memorial Auditorium. The Lakers never led during the game and were forced to play catch up the entire night. On Saturday, it was the Pioneers who never led, as Oswego State's offense caught fire in the game's final 40 minutes of play.
The Lakers (12-2-2 overall, 6-0-2 SUNYAC) played to a scoreless first period for the second consecutive night, but separated themselves from the Pioneers in the second period. Leimbrock tallied the team's first goal of the night at 4:45 on an assist from senior forward and assistant captain Ian Boots. Leimbrock struck again with 1:25 remaining in the third period to give the Lakers a two-goal lead. His second goal of the game came shorthanded after junior defenseman Zack Josepher was called for interference.
Oswego State pushed its lead to three with one second remaining in the second period on a power-play goal by junior forward and assistant captain Jon Whitelaw. Following a slashing penalty by Utica's Jon Gaffney, junior forward Paul Rodrigues found Whitelaw, who registered his team-leading ninth goal of the season for the Lakers.
The Pioneers (11-5-0 overall, 1-3-0  ECAC West) recorded their first goal of the game at 8:21 of the third period by Mike Slowikowski to cut the Laker lead to two. However, the Lakers would regain the momentum just 31 seconds later with a power-play goal by senior defenseman Hank van Boxmeer. After a cross checking penalty to Utica's Ridge Garbutt, van Boxmeer took a pass from Boots and beat Pioneer goaltender Nick Therrien for the goal.
Therrien would be replaced in net by Evan Smith following van Boxmeer's goal. Therrien finished with 21 saves on 25 shots faced in 48:21.
Down by three late in the third period, the Pioneers pulled Smith while on a shortened power play and had a two-skater advantage. However, junior forward Luke Moodie scored the empty netter while on the wrong side of a 6-on-4 advantage. The Lakers' special teams unit finished with two power-play goals and two shorthanded goals.
Rob Morton scored Utica's second goal with 1:07 remaining in regulation.
Things got chippy in the second period, as both teams were called for six penalties each resulting in 23 penalty minutes. Both teams were called for two major penalties during the period. Senior defenseman and assistant captain Jared Anderson was called for both a five-minute head butting penalty and a 10-minute head butting penalty at 4:14 of the second period. Utica's George Lotito also recorded 15 minutes worth of head butting penalties at 12:04 of the second period.
After a night off, junior goaltender Andrew Hare finished with 17 saves on 19 shots faced to earn the win in net for the Lakers. Smith stopped all 11 shots faced in relief for the Pioneers.
Oswego State will close out a six-game homestand next Friday when it returns to SUNYAC play against SUNY Cortland at the Campus Center Ice Arena.