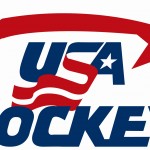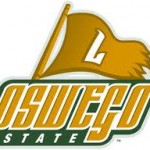 OSWEGO, N.Y. — Team USA-Under 18 goalie Thatcher Demko showed the sold-out crowd at the Campus Center Ice Arena why he will more than likely be drafted by an NHL franchise in the near future, stopping 31 shots to shut out the Oswego State men's ice hockey team, 2-0, in an exhibition on Saturday night.
The Lakers may have been unable to get the puck by Demko, but it wasn't for a lack of trying. Senior forward Chris Ayotte hit the post on a breakaway attempt in the first period and junior forward David Titanic's backhand shot went wide of an empty net in the second.
Team USA's Kevin Labanc scored the game's first goal at 18:28 of the first period on a wrist shot from outside the left faceoff circle. Labanc received a pass from Will Butcher at the blue line and wristed a low-velocity shot that slipped through the five hole of Oswego State senior goalie Andrew Hare.
Hare finished with 13 saves on 14 shots faced before being replaced by senior Dan Jones to start the second period. Jones faced just six shots in his 20 minutes of work due to Team USA playing a man down for nearly half of the period.
Team USA committed four penalties in the second, but were bailed out by Demko's play in net. The Lakers recorded 13 shots on Demko in the second, but couldn't find the equalizer. Demko helped kill off all seven of Oswego State's power plays.
Team USA had similar results with its power play, finishing 0-for-2.
The Lakers got their first look at freshman goalie Justin Gilbert in the third period and he showed signs of being a capable starter come next season. The 5-foot-11, 175 pound goaltender recorded a team-high 19 saves on 20 shots faced.
Shane Eiserman gave Team USA a two-goal lead after scoring on a rebound attempt off Hudson Fasching's shot in front of the net with 11:35 remaining in regulation.
The Lakers open up their regular season schedule at 7 p.m. against SUNY Cortland on Friday at the Campus Center Ice Arena. The game can be heard on 88.9FM WNYO.
*Michael Kraft is an Oswego State alum who covered the team for The Oswegonian from 2009-12. He currently works for The Minot Daily News in Minot, N.D.* 
BOXSCORE
Team USA-Under 18 2, Oswego State 0
First period: 1. USA, Kevin Labanc (Will Butcher), 18:28.
Second period: No scoring.
Third period: 2. USA, Shane Eiserman (Hudson Fasching, Gage Ausmus), 8:25.
Goaltender saves: USA, Thatcher Demko (W) — 31; OSU, Andrew Hare (L) — 13, Dan Jones — 6, Justin Gilbert — 19.
Penalties: USA, 8 for 16 minutes; OSU, 4 for 8 minutes.