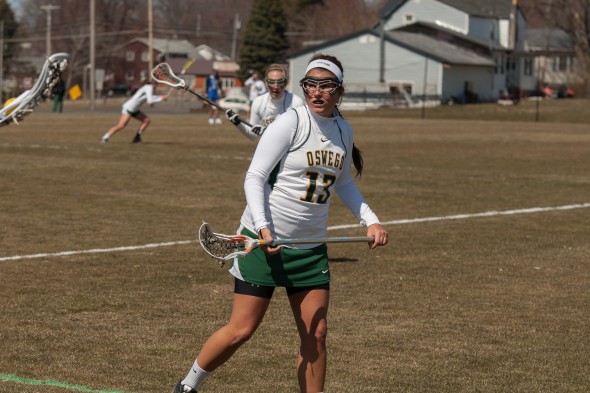 The Oswego State women's lacrosse team is off to its best start in nine years. The Lakers are currently 4-1 after winning both games during their spring break trip to Florida.
So far, the squad has posted wins against Utica College and Morrisville State, adding to its previous victories in Florida against Springfield College and St. Joseph's College.
Oswego State head coach Brandi Lusk said she is not the least bit surprised by the Lakers' phenomenal start.
"I expected it," she said. "I know their potential."
The Lakers opened the season on March 1 with a 10-6 win over Utica College. The Lakers scored six second-half goals to down the Pioneers.
A week later on March 7, the Lakers lost a tough game against R.I.T., 9-7, after having three of their goals disallowed.
Oswego State bounced back against Morrisville State the next day, scoring a season-high 17 goals while only giving up six.
The victory sent the Lakers to Florida on a high note. Once there, they faced Springfield College on March 16.
Goals from Lindsey Eggers and Erannan Shattuck helped propel the Lakers to a 5-4 win.
At the time, Springfield was 4-1 and averaging close to 13 goals per game. Lusk said she was pleased with the Lakers' defensive effort.
"Number one, we had decent scouting reports, but number two, we were just mentally prepared for that game. We knew what we needed to do with Springfield," Lusk said.
"They were all right-handed players. We pushed them to the left-hand side. They had tall players, so we tried to make sure our match-ups were spot on. It worked for us. We played real well."
The Lakers followed up that win with a victory against St. Joseph's the following day.
Oswego State struggled against the Golden Eagles in the first half despite entering halftime holding a 6-5 lead over its conference opponent.
Lusk admitted that after the game against Springfield, she expected her team to come out of the gate a bit flat against St. Joseph's.
"I knew deep down that that game would start off a little sloppy just because of the intensity of the game before," she said.
"So playing as hard as we did against Springfield, I knew that going into St. Joseph's, we would make some mental mistakes because of being tired, and certainly we did."
The Lakers turned things around in the second half, scoring nine goals and cruising to a 15-10 victory.
"We started to play our game," Lusk said. "Most of the girls on the team got in. We started scoring. Once we shook it off, that we were tired, we were able to push through it and do what we came here to do."
The Lakers have developed a potent offense, based on the variety they have on that side of the field.  Three players have recorded at least 10 points this season through the first five games.
Sophomore attacker and last year's leading scorer, Erannan Shattuck, has set the tone for the Laker offense, having tallied 18 points so far this season, scoring nine goals in addition to tallying nine assists.
Sophomore co-captain Esther Gabriel currently is tied for the team lead in goals with 10, along with newcomer Emily Lange.
"If [Shattuck] wants to score four goals and they want to double team her, then we got [Lange]," Lusk said.
"If they want to guard Emily then we've got [Mackenzie Kjerstad]. If they want to guard Mackenzie, then we've got [Becky Guess]. At any given time, we have nine different players who can score."
"They don't have to just guard two of us to shut us down. They literally have to shut down our entire offense for us to not play."
The Lakers have also been strong on defense, surrendering only 35 goals this season. Only once, against St. Joseph's, have they given up double digit-goals.
"We have a really strong defense this year," sophomore midfielder Jayme McCreary said.
The Lakers played its first home game on Thursday against SUNY Canton and will start SUNYAC play against Fredonia at home on Saturday.
In light of the success the team has had so far, Lusk said she believes this is the year the Lakers will compete for a spot in the SUNYAC tournament.
"I know we have talent," Lusk said. "And this is the year I know this program is going to do some special things."