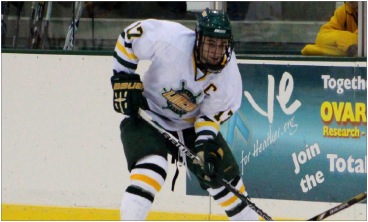 At the end of last Friday night's national semifinal loss to University of Wisconsin-Stevens Point, many reflected on this season in amazement of what the new group accomplished.
If there is one player to thank for the team's success, it would be senior captain David Titanic.
This year's Lakers squad had 19 freshmen and five Division I transfers which, combined with nine returners, made for a roster of 33. It was Titanic's task as captain to bring that group together and push them to play a team.
Junior assistant captain Nick Rivait said he was especially impressed with how his teammate and co-captain was able to do this down the final stretch of postseason play.
"It was fun doing it with 'Tites' all year, but that last stretch, the last month-and-a-half or two months we were playing, that was probably some of the most fun I've had playing hockey in a long time," Rivait said.
"Just following 'Tites,' no one was ever angry and everyone was in it for the right reasons. 'Tites' was responsible for that. He made sure everyone was on board, and look at the success we had at the end of the year."
According to head coach Ed Gosek, every game was a playoff game beginning Jan. 24 vs. SUNY Fredonia on. During those final 15 games from Fredonia to the Frozen Four, Titanic rose to the occasion as both a motivator for his team and a producer on the scoreboard.
Titanic had 11 points during that span, contributing five goals and six assists, but his presence was felt even more in the defensive zone. He was among the team leaders for forwards in blocked shots and constantly pestered opposing skaters trying to make plays.
This increased energy became evident starting on senior weekend against SUNY Geneseo and The College at Brockport and, according to Titanic, it was no coincidence the switch appeared to flip at that point in the season.
"I realized there was nothing to save it for. This is the last stretch run of my career here and I just wanted to go for it," Titanic said of his inreased effort.
"The results on senior weekend, obviously, weren't what we wanted, but I think it was a building block for the weeks to come. The next two weekends we got huge wins in Platty, and Geneseo was another huge win building into the NCAA Tournament. I think that, with the result being the way it was, sparked our team a bit. We did play well that weekend, but it's tough to take that on Senior Night. I used it as motivation going into playoffs."
Despite scoring just one goal during the postseason, Titanic was still a driving force of the Oswego State offense. His assist against SUNY Plattsburgh in the SUNYAC semifinals tied the game in the third period.
He also assisted on the game-winner in the NCAA opening round vs. Bowdoin and the team's lone goal vs. Stevens Point in the NCAA semifinals.
Not to mention, he was crucial on the final penalty kill of the SUNYAC Championship game in Geneseo in a tournament in which the Oswego State defense stopped only 50 percent of power plays against them.
That the penalty kill was where Titanic had his shining moment was no surprise, as it has been his niche on the team all four years.
Being a year behind such a large and talented sophomore class his freshman year, Titanic saw the penalty kill as a place where he could get in the lineup and stay.
That experience of fighting for playing time with such a talented group helped Titanic this year as he took on the captaincy in a season with so many players in a similar spot to the one he had been in.
"We had such a great group of guys ahead of me. I tried to put in work everyday in practice. When I was given the opportunity, I tried to seize it and play the best that I could. I was a role player, pretty much out there to work hard and put pressure on the other team," Titanic said.
"Whenever I got the opportunity I did that, and I kind of used it as an example for guys this year because I only played 12 games my freshman year, mostly towards the end. So, some of the guys who weren't playing early on could use me as an example that, if you keep working, good things can happen."
However, Titanic said the whole experience of being the leader this year was still a bit out of the ordinary.
After three years behind the class of 2013, which graduated 14 players, it was his turn to step up.
"It was different for sure. In the past, I've kind of been the little brother to those guys. They were always beating up on me and giving me a hard time. This year, it was great experience," Titanic said.
"I couldn't have been more thankful for the recruiting class that came in. They could've ended up with guys who were difficult, but we didn't. There were no egos on the team. They bought in to what we were selling. They made it easy on myself and the coaches."
Junior assistant captain Bobby Gertsakis saw a change in his teammate this season and was very pleased with the leader he became.
"He played unbelievable in a lot of games; a lot of games he was the one that kept people up and kept people motivated when we were down," Gertsakis said.
"It's just tremendous to his character to be that guy all year round and not just in little sections. From start to finish, he was a great captain."
Even though his season ended very well, through the first six games Titanic was held to just two assists and, while the team was averaging four goals a game, he was goalless.
Titanic does not like to let the pressure of putting the puck in the back of the net get to him, but in his senior year it did. But, when he finally broke through, it could not have happened at a more perfect time.
"I try not to let the goal thing bug me but, at that point, I couldn't really look past it anymore. It was one of those things that didn't seem to be going in for me," Titanic said.
"That weekend, it was an unbelievable pass play by Adams to get my first of the year, and it kind of sparked a bit of confidence. The excitement around White Out Weekend just, well, there's nothing like it. It was unbelievable, there's nothing like it. I was willing to do whatever it took that weekend and I was fortunate enough to get another one there against Chewy [Mathieu Cadieux] on Plattsburgh. It was awesome to score against those guys, such a tight-checking team. To be able to score in front of our fans at White Out, I will never forget that for sure."
The season only got better from there for Titanic. He enjoyed the unfamiliar route the team had to take through the postseason. After playing only one road playoff game his first four years, Titanic had fun playing two of three SUNYAC Tournament games on the road and then traveling to Babson for the NCAA quarterfinals. Yet, he will always cherish playing in front of the home crowd one last time in the game against Bowdoin. He tried to make sure the freshman class understood and appreciated the journey as well.
"It all kind of blurs together now, but I think that a lot of our freshmen didn't quite know how amazing the run was that we went on," Titanic said.
"Like I told them time and time again, live in the moment and don't let it pass you by. Don't be looking forward, but enjoy the moment."
What meant the most about the postseason this year for Titanic was seeing the fans come out in full force everywhere the team went.
Whether it was Plattsburgh, Geneseo, Babson or Lewiston, the community was there. Titanic said he appreciates the fans and will greatly miss them.
"It makes it a special place here. I have a lot of friends that play college hockey and there's no other place that involves the communities, families and fans and the support system as much as we do here," Titanic said.
"You see at every home game not just the students but the families in the community are there. They're just so unbelievably loyal to our team and it's nice that we get a chance to get involved with them and give something back and get to know them."
A big part of the Oswego State men's ice hockey tradition is that relationship with the Oswego community. The team is very involved and Titanic fully embraces that aspect.
"The best part is when you get to be with the kids, whether it's with youth hockey or when they do the fan favorite dinner or St. Baldrick's, that's what's most important to me," Titanic said.
"Those kids look up to us and it's nice to be able to spend time with them and give them something to be excited about."
But even now that it is over, Titanic said he is still feeling the emotions of realizing he will never wear the Laker No. 17 again.
Last Friday night was a rough one, but he knows he will not be gone forever. He plans to return to Oswego State, and when he is away, he will keep his eye on those he leaves behind.
"Once a Laker, always a Laker," Titanic said. "Twenty years from now, I'll still be following the Lakers and I think that's what's unique about this place."