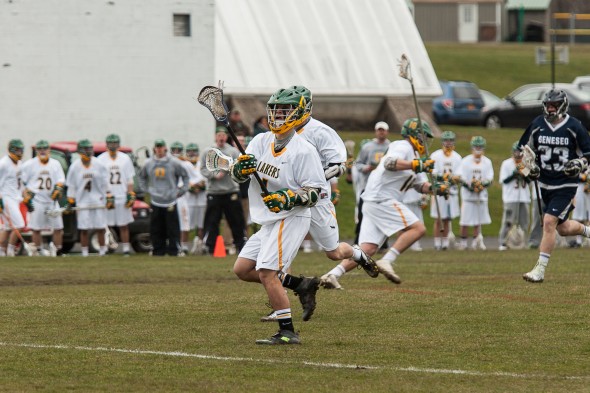 After splitting its two games over spring break, the Oswego State men's lacrosse team has a 3-2 record as it prepares for a four-game home stand beginning on Friday.
On March 8, the Lakers won a 9-3 contest over Centenary College. Junior Torry Whitcher, who scored four goals on six shots in the victory, led the team's scoring.
Junior forward Nick Giampaolo found his scoring touch after a slow start to the game and finished with a hat trick. He scored his three goals on eight shots, which was tied for the most on the team.
Sophomore Jimmy Cordon also put two in the net, which gave Oswego State nine goals for the game.
Freshman goaltender Wyatt Russo, stepping in for the injured starter, senior Bryan Martin, allowed three goals in the contest while tallying nine saves.
"Everything we worked in on preseason finally came together, "defender and senior captain Bryan Murphy said. "From a defensive perspective, we played as an effective team unit, and the offense just clicked all around."
The team departed for their annual spring break trip to North Carolina where Oswego State recorded a decisive victory over Greensboro College on March 18. The Lakers posted a 15-3 win over the Pride.
Whitcher continued his strong offensive play by registering four points (two goals, two assists) while Giampaolo repeated his hat trick performance with another three goals in North Carolina.
Freshman Brady Hoose added another two goals and has continued to perform well in the early days of his Laker career.
Sophomores Cordon and DJ Sellick, freshman Mark Niechcial and junior Dylan DiFante also contributed to the scoring, with each adding a goal a piece for Oswego State.
"It felt good, after being so effective last year, it felt good to meet the expectations that both my team and myself hold me accountable for," Giampaolo said of his three-goal game.
Russo received the starting nod in net again and allowed three goals while making nine total saves in the win.
Bad weather played a role in the game, according to Giampaolo.
"They were not as accustomed to playing in the cold weather as we are," said Giampaolo.
The Lakers finished off its spring break with a game at St. John Fisher College in Rochester. The Lakers struggled to keep its offense rolling and fell by a score of 11-6.
Giampaolo and Hoose each tallied two goals, with Cordon and Whitcher each recording one in the loss. Russo took the loss despite making 11 saves.
In posting a winning record through their first five games, the Lakers have started to click as a team, both offensively and defensively.
The two spring break wins showcased the team's chemistry, offensive prowess and depth. Oswego State's ability to score has not only been consistent, but also balanced, with several players off to strong starts thus far.
Russo has stepped in between the pipes to fill the shoes of the injured Martin, who is recovering from a high ankle sprain, and has performed admirably.
Oswego State has seen some chaos with its schedule, however, as two games have been postponed thus far, including their scheduled home-opener against Elmira College on Tuesday.
The Lakers' next game is scheduled for 4 p.m. on Friday, when the squad is set to open its home stand against Utica College (4-2) at the South Athletic Field next to the Romney Field House.
"They are a really scrappy team and will fight to the finish," Martin said of the Utica team. "You can never count them out."
After the contest against Utica, the Lakers will host Clarkson University on Tuesday and The College at Brockport on Friday before facing off against SUNY Cortland on April 9.