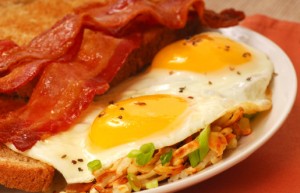 Oswego has a lot of places to go for breakfast. Some are slow and have great food; others are fast and have OK food. A few are expensive, and some you need to wake up early for. I can't rank these places for you because they are all good, it just depends on what you want. I've been trying Oswego's breakfast places for three years, all in preparation for this (and also, because I truly do love eating breakfast). Here are the pros and cons of all the places that I've found that are worth mentioning.
The Ritz: Possibly the most popular spot for breakfast among college students is The Ritz Diner. It has that nostalgic 1950s feel to it, and has tasty, albeit standard, breakfast fare available all day. For this, The Ritz is the go-to breakfast place for many students. The prices are reasonable, but sometimes the wait isn't. Since it's so popular, The Ritz gets crowded on the weekends. Expect to wait, especially if you have a large group. And come with cash, because that's all they take.
Wade's: Maybe you've heard of it? Wade's is that enigmatic east-side breakfast spot that not everybody knows about.  Some students speak of it like the 8th wonder of the world. Wade's Diner doesn't look like much from the outside, but inside it offers delicious breakfast specialties. The homemade bread draws many in, and perhaps it's also what keeps them coming back. Wade's specializes in breakfast because that's all they serve – the place closes at noon. For many students, waking up before 12 o'clock is considered early rising; and that's the price to pay to get a taste of Wade's.
Oswego Tea Company: Oswego Tea Company has some of the best food around. They serve breakfast all day long, so you won't have to worry about waking up early to go here. But there is one major caveat: don't go when you're hungry, because you'll have to wait, and probably for a while. Maybe that's the price for good food. And the food is very good. Oswego Tea Company may also be the only place to get a crepe in town. But I've never been to this place and waited less than 30 minutes for pretty basic breakfast fare (I've been there over five times). But they also have out of this world Raisin Bread. So if you're willing to wait, it will be worth it.
The Pressbox: Wait, the Pressbox? Why is this on the breakfast list? Well, maybe you had no idea (because I didn't for the longest time) but this awesome dinner spot is also open in the morning. The Pressbox offers a breakfast buffet: unlimited food, including a drink, for $8.99. This may be a little steep for some college students' wallets, but it's instant food, and that can be priceless. The food is fine; there are eggs, potatoes, French toast, and the other breakfast basics. It's what you would expect at any breakfast buffet.  On the flipside of Oswego Tea Company, here is where you should go if you want food immediately, you'll just need to be willing to pay.
Oswego Bagelry and Sandwich Shop: For the bar-none best bagels in town, Oswego Bagel Shop is the place to be. But, as there always seems to be when you want quality, there is a cost; this time it's early rising. The bagel shop officially closes at 2 p.m., but you'll have to get there a lot earlier than that if you actually want a bagel. This place is so good that they actually sell out of their bagels before half the college community is awake (usually around 11 a.m.). But waking up early for theses is beyond worth it. They make a huge variety of bagels from plain, to everything, to cinnamon sugar. And they make homemade cream cheese, also of a large flavor variety.  But seriously, get there early: there's nothing more disappointing than getting there when they're already closed.
Maria's Family Restaurant: This place is relatively new to Oswego (established in 2012), and that's probably the only reason it's not just as crowded as The Ritz is on a weekend morning.  Right now, Maria's might be the most underrated breakfast place in Oswego. The food is good, standard breakfast fare, reasonably priced, and brought out in practically no time. Last time I was there the food came out less than five minutes after ordering. I kept thinking, 'that looks like our food, but how could it be already?' But it was. You could be in and out of Maria's in 20 minutes if you really wanted to. Right now it's like a well kept secret. But as more college students find out about this place, it might become more crowded.
La Parrilla: Every second Sunday of the month, La Parrilla does a $20 breakfast buffet. Now, this price is very steep for most students, and I'm still not sure if it's worth it. But La Parrilla does deliver. The food is not your typical breakfast buffet, like at Pressbox.  It's more of a high-end breakfast, hence the price tag. There are eggs benedict, roasted potatoes and scrambled eggs (both seasoned to perfection, bacon, sausage, and a pastry bar. But the best part is the 'bottomless mimosas.' That helps justify the $20 per person. So if you aren't 21, you might want to skip this place.
If it seems like I missed anything, please, shoot me an email. I would love to try another great breakfast place.