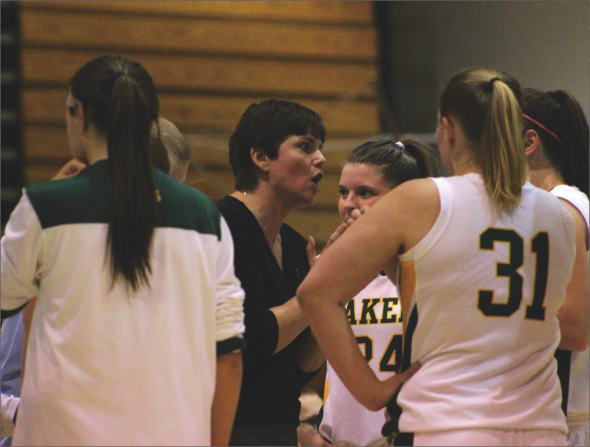 Basketball has been in Oswego State women's basketball coach Tracy Bruno's life since she was in fourth grade.
What is a sport to some was love at first sight for Bruno. As soon as opportunities to compete in organized basketball became available, she took full advantage and never looked back.
But basketball was not always an option for Bruno, who also played volleyball and softball growing up. While the future Laker coach always liked softball and volleyball, basketball was her true passion.
Bruno decided early on that she wanted to put her full concentration on basketball. After a stellar career in high school, she earned the opportunity to play at a Saginaw Valley State University, a Division II school, and went on to have a great career.
For five years, she was on the women's basketball team and was the captain for two years. During her career, she was chosen to play in all-conference, all-defensive, and all-academic teams.
She was also a member of a team that made it all the way to the Sweet 16 in the NCAA Division II Tournament.
Bruno said she hoped her playing time would help her secure a coaching job and, thanks to her coach at Saginaw, she did not have to wait long. She received her first coaching opportunity when Alpena Community College in Michigan came calling her senior year.
"I was finishing up my senior year and one of the community colleges in Northern Michigan was looking for a coach," Bruno said.
"She (the head coach at Alpena Community College) happened to reach out to my coach and she talked to me a little bit, and obviously at that point I was willing to move and do whatever it took to get employed."
As Coach Bruno began to rise up the coaching ranks, she began to build upon her unique coaching style predicated on tough gritty defense.
"I am philosophically defensive-minded, and without a question it started as a player," Bruno said.
"I loved to play defense. We used to play a fast-paced, in-your-face defensive style. We're out in the passing lanes trying to disrupt what teams did, and that fueled my defensive passion."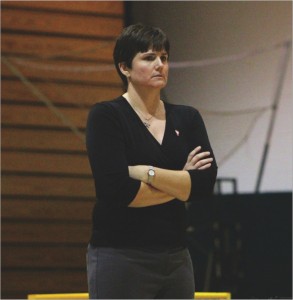 Bruno said she has also learned the value of defense from a coaching standpoint as well.
"We play a lot of games, 25 to be exact, over a 19-week period, and we are all human. Anyone can have a cold shooting night while, on the other hand, defensively you need to bring your effort, footwork and be in the right place," Bruno said.
"It is about playing as a team…"
"Those things sometimes are easier to hang your hat on; those types of things that you can count on game in and game out."
Bruno pushes her players hard defensively in part because of her competitive nature and drive for success.
"I think I'm in an incredibly competitive person," Bruno said. "I think if you'd have the opportunity to interview my family, they would tell you that it doesn't matter if its Scrabble or Yahtzee or whatever it is."
While winning is priority number one for Bruno, she said there is more to coaching than winning.
"Secondary to (winning) is having the opportunity to work with my players obviously on the court but being a part of what they'd do in their development and where they go from here," Bruno said.
Bruno said that despite no longer playing, her passion remains at an all-time high because she is a part of the game she loves and is watching her student-athletes grow and develop.
"Getting older, and not really having the opportunity to play myself anymore, and old knees and all that good stuff, it's a competitive outlet for me, which I really enjoy," Bruno said.
"Especially being around 18 to 21-year-old student athletes who are not only developing their basketball careers, but also developing where and what they want to do with the rest of their lives is a pretty cool thing to be a part of."
During the middle of this season, the team was searching for its identity and trying to put the pieces together.
Bruno said she asked the team to think about what passion is and what each player was passionate about in an effort to make her players think about why they play the game.
This discussion led to a new team motto: "Clear eyes, full hearts, can't lose," which comes from the television show "Friday Night Lights."
Junior forward Lexi Gillard explained what the motto means to her and her teammates and the impact it has.
"It means that if we have a clear mind and passion for each other and what we are doing and, we can never really lose, regardless of what's on the scoreboard," Gillard said.
"As long as we keep striving to be better and stick together as a team, we can't ever really lose."
The Oswego State women's basketball team is a tight-knit group that loves and admires its coach for her perseverance and ability to push the squad forward  through tough times.
"She hasn't given up on us and as much stress as we've put her through, she still manages to come up with a game plan for the next opportunity we have to get better," Gillard said.
"I would say her best quality is her ability to get through the tough times and see our potential as not only individuals, but as a team."
Bruno said her No. 1 goal for her players is to leave Oswego State with a diploma in their hands and forge bonds with teammates that cannot be broken.
"What I want them to walk away with after their time here is a degree, first and foremost," Bruno said.
"But even more importantly, I want them to walk away from our program saying, 'no matter what win, lose, or draw, that was a great experience that I developed friendships with people that I will have friendships with the rest of my life, that I know I have people in the coaching staff that will always be there for me and that they have somehow, whether as a basketball player or as a person, have grown in some way as a part of their participation with the Oswego State women's basketball program.'"
Bruno said she considers herself lucky enough to stay in touch with players who have graduated, which proves how strong the bond between a player and coach can be.
"If you're in coaching long enough, those types of things are happening," Bruno said.
"I'd be lying if I didn't say winning was important, but I think a very close second to that is simply the relationships and whether it's your staff, with colleagues, coaches across the league and certainly that very special one with the players that you coach. It goes a long way."
Bruno will look to help her team finish a rough 2013-14 season strong. The Lakers have gone 6-15 (2-12 SUNYAC) this season and have four games remaining on their schedule.
Oswego State will don its home uniform just once more this season when the squad hosts Brockport on Faculty and Staff Appreciation Day on Tuesday night. Opening tip is scheduled for 6 p.m. at Max Ziel Gymnasium.