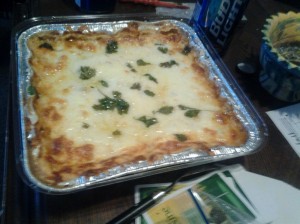 This Super Bowl Sunday was meaningless to me: I hate football, and Beyoncé didn't do the halftime show. But one thing I will always love about it is the food.
Super Bowl Sunday food is the greasiest, messiest, guilty-pleasure food of the year. Your friends probably brought over some delicious treats for you to share with your pals during the big game. But now you may be left wondering what to do with the leftovers.
What could you possibly do with flat beer, a cup of chili, stale crumb remains of tortilla chips, misshapen pieces of cheddar cheese, and a half container of French onion dip? These things apart seem like trash, but to the poor college student this is a money saving meal.
Before I tell you how to construct this masterpiece made of poverty and delicious desperation, call your friends and thank them for leaving you with just enough ingredients to make some Post-Super Bowl Dip.
Post-Super Bowl Dip Ingredients:
Remaining chili
French onion dip, or queso, or sour cream (Whatever didn't get devoured during the most boring Super Bowl in recent history.)
Shredded Cheese
Tortilla chips crushed into little pieces
Directions:
Preheat your oven to 350 degrees. In a pie plate, or anything resembling one (try the front desk of your residence hall if you don't have one), place your chili at the bottom. Flatten out the chili so it's as smooth as possible.
Pour all of your dip/cream/queso over the chili, and if you have all of these things mix them together. You want to make defined layers in this dip, so try not to lift up your spatula when spreading the dip/cream/queso because the chili will mix with dip/cream/queso.
Let the cheese cover the dip like it's a mid-February blizzard. Then finally, top with crushed chips (this will give your otherwise mushy dip a bit of crunch).
Bake for 25 minutes or until the edges turn golden brown. Remove from the oven and let it set for 10 minutes before serving.
Note: If your chips aren't stale and are not in tiny pieces, just leave them off of your dip and use it as a shovel and consume this pile of gluttony. I also recommend using the sticks of celery that have been left over from the dozens of wings your friends ordered to your house.