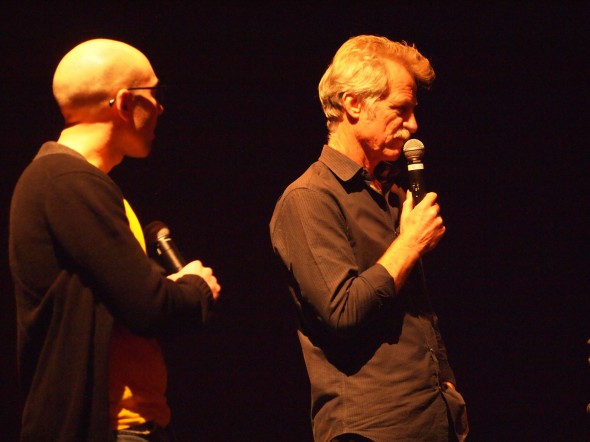 Waterman Theatre had dim, dramatic lighting on Saturday night, as the audience met American master guitarist, Alex De Grassi.  De Grassi performed his guitar for the audience on Nov. 9 at 7:30 p.m. to accompany a well-known Japanese black and white silent film called "A Story of Floating Weeds," (1934) by Yasujiro Ozu.
De Grassi performed on the stage in front of the drop down screen in the theatre. He sat facing the film so that he could play the guitar accordingly. His notes filled the room with story.
Though De Grassi has come up with musical themes to match his guitar playing to the story, his music mostly consists of improvisational techniques that he uses while he is actually watching the movie himself. For suspenseful moments, he plays the guitar in a way to heighten the senses of the audience, and changes the sounds to match other emotions as well.
"I surprise myself," said De Grassi.
De Grassi likes the harp, and often uses his guitar to create a similar sound to the koto, a Japanese harp-like instrument.
De Grassi performed this production over 25 times and brings something new to his score each time he performs it. He feeds off the audience's energy, which he can feel from the stage. He also uses pauses in the music to help the audience feel the drama at appropriate moments. Cinema and Screen Studies professor Jacob Dot relayed some information about silent films, and reminded the audience that many of the films were done impromptu, with varied music, and used anything they had to make it work.
De Grassi was commissioned by the New York Guitar Festival to create an original piece of music to accompany the film. The premier was on Jan. 28, 2006 at Flushing Town Hall in New York City. There was a full orchestra for this premier. De Grassi was actually born in Japan, which is one connection that attracted him to the job.
The story is about a family that gets torn apart. The father is a traveling actor. It involves the way a child grows up without a father, which is often a universal problem. The themes that De Grassi makes in the music help people become familiar with the characters in the film.
The music was so enchanting that it had the audience in a very subdued state. There was quite the soporific atmosphere in the theater, with the exception of a few laughs at the comedic moments of the film that could only be discovered with ultimate concentration. The film included subtitles in both Japanese and English.
Overall, silent films are unlike other types of media. They require complete attention and appreciation of senses like sound or vision for paying mind to action. This is something taken for granted in modern films.