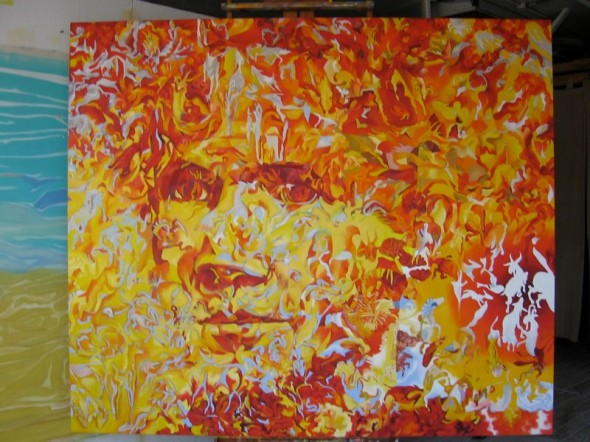 Students, fellow artists and professors gathered in room 105 in Lanigan Hall on Tuesday night to listen to Aaron Sinift, the fourth artist in Oswego State's Visiting Artist series, talk about his work. During the two-hour event, Sinift focused on his project, "The Five Year Plan," and made it a point to educate the audience about the importance of Indian culture and how it inspired him to spearhead his non-profit project.
"It sort of tied together his interest in the Indian culture and art," Christopher McEvoy, assistant professor of painting, said. "Creating a project that's a non-profit project, but yet is sustainable is pretty interesting."
Throughout the event, Sinift focused heavily on recounting his multiple trips to India and how its culture, along with the influence of Mahatma Gandhi, was a crucial factor when developing "The Five Year Plan." He stated that on his first trip to India in 1990, he visited an ashram, later explaining that an ashram was, as he put it, a "spiritual dojo" where people can come together.
Sinift shared that, while at the ashram, he purchased a jhola bag, a traditional over-the-shoulder bag that is made from khandi cloth and was worn by Gandhi. For over a decade he used the bag, until he came up with the idea to make a cloth book made entirely of jhola bags.
"I like the fact that he traced the story of the jholas and how he was able to, in a way, preserve history," James Herbst-Jones, a junior graphic design major at Oswego State said.
When putting the project together, Sinift commissioned artists such as Yoko Ono, Chris Martin and Francesco Clemente, who agreed to take part in the project. He said it took over 1,400 meters of khati cloth to make the book. Sinift also mentioned that creating this non-profit was not an easy feat. The only payment he gave himself was 10 copies of the book and he refused to pay himself for the work that he had done.
"I showed up in India with a pocket full of money and a dream," said Sinift about the beginning stages of the project.
At the end of the event, Sinift invited the audience down to the front of the room to look at the jholas that he had brought in. He also brought a copy of "The Five Year Plan" and members of the audience were able to look through it. After the majority of the audience had left, Sinift shared one piece of advice that his grandfather had shared with him: "Be sweet, be romantic. But above all, a great painting's gotta have guts. It ain't worth anything without guts."