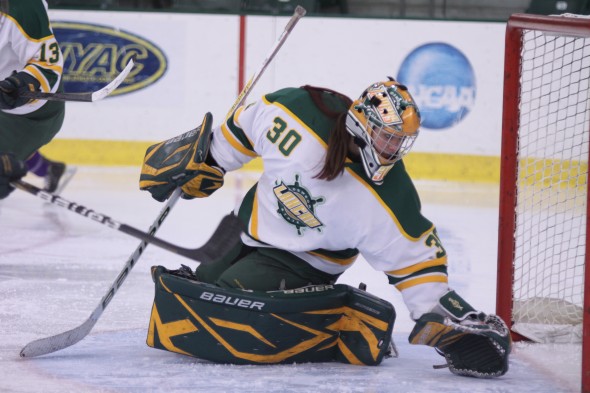 The Oswego State women's ice hockey team is preparing for another season of Laker hockey. With a revamped roster and an experienced senior class at the core, the Lakers are looking forward to making waves in the tough ECAC West Conference.
"I think this year we are in better shape heading into the season than we have ever been," senior co-captain Mady Paul said. "We are going to be gunning for teams right from the start and I'm so excited for this year because of that."
The Lakers are coming off the best season in program history last season. They finished third in the ECAC West, even while facing various challenges, the most problematic of which being their short roster. The Lakers carried only 17 players during the 2012-2013 season, three of them being goaltenders. This led to Lakers' highly inconsistent play last season, despite their overall successful finish.
"I hate to throw out an excuse, but sometimes we were so short in numbers we were playing with 9 skaters and at the college level, you just can't get away with that," head coach Diane Dillon said. "We were sound defensively, we just couldn't score goals."
This season, the Lakers have brought in nine new skaters, eight freshmen and a transfer, increasing their roster to 20 players.
"Last year, we couldn't even scrimmage. We didn't have enough kids," Dillon said. "We could do segments of the game, 2-on-2, 3-on-3, but we didn't have enough people to go 5-on-5 and change."
Dillon also said the increased roster size will make for better competition during practice throughout the season.
"First and foremost, we have the bodies and the depth that we need to practice at a high pace," Dillon said. "We have internal competition for playing time. Last year everyone had to play. It didn't matter if you were awful or great. You were going in."
Dillon is excited over having the "good problem" of having a larger number of players than available playing spots.
"We can only dress 21 kids," she said. "Right of the bat, a couple of kids are in the stands. That's a little incentive to make sure you're working hard every day."
Of the 23 players on the Lakers roster, eight are seniors. Dillon believes that the veterans will play a major factor the team's success this year.
"One of the intangibles is that this senior class has been in the playoffs every year they've been here," Dillon explained. "They want to make it all four years."
Senior co-captain Olivia Boersen agreed with her coach.
"With such motivated, hardworking upperclassmen, I think it set the tone for the freshman coming in," Boersen said. "They knew right off the bat that we were in it to win it this year and not making any excuses for ourselves."
The Lakers are led by their three senior captains in Paul, Boersen, and Jocelyn St. Clair. Last season, Boersen tallied 16 points in 25 games for the Lakers last season. She notched seven goals for a team that was starved for offensive.
"[Boersen] is the heart and soul of the team," Dillon said. "She's the kind of players that will go through the end boards for you."
Dillon even compared Boersen's leadership quality to that of famous New York Rangers captain Mark Messier.
Boersen understands the weight of responsibility she has as a veteran leader on the team.
"As a captain, not only do I have to lead by example but I have to motivate and communicate with everyone on the team individually and as a whole to make sure people are playing to their potential, getting things done with school, staying focused and doing the little things right in practice," Boersen said. "I have to hold myself and everyone else accountable."
St. Clair commanded the Laker defense last season, which was the strength of that team and one of the reasons for its success.
"Jocelyn logged between thirty-eight and forty-five minutes a game last year," Dillon said. "She played the power play, penalty kill and regular shifts."
St. Clair along with defensive partners Chelsea Hunt and Leslie Jarvis, surrendered only 55 goals in 26 games.
Another reason behind the Lakers prosperity on defense was their goaltender, Bridget Smith. When then junior, Catherine Cote needed season ending shoulder surgery, the full weight of the undermanned team, fell on Smith.
"She really took the bulk of the load last year," Dillon said.
Smith finished the 2012-2013 season with a Goals Against Average of an even 2.00, a save percentage of .920 and 446 saves.
Dillon noted Smith's six-foot frame and strong work ethic were keys to her goalie's success.
"She's a very disciplined athlete and by nature of her height, she covers a lot of the net," Dillon said.
Though Smith is the starting goaltender, Cote, who is now healthy, and sophomore Tori Trovato will also be gunning for playing time.
"I'm going to have two very unhappy goaltenders every game," Dillon said. "While that's hard for them, I have a trio that any one of them could jump into the net and we'd be comfortable with. So it's now time to see who rises to the top."
Dillon says she expect her No. 1 goalie to step up to the challenge.
"I look to see from Bridget, real fight," she said. "She's got a real fighter's spirit."
The Lakers are set up to be more of an offensive threat this season, which should take some pressure off Smith and the defense.
"It's one of those things as a goaltender that your job is so much easier if you know your team's going pop a couple in," Dillon explained. "The problem is, we didn't have any offensive production in front of her. She either had to pitch a shutout or a one or two goal game for us to even be in the game. I think what's going to help Bridget is knowing it's not all on her shoulders."
The Lakers are looking to senior forwards Boersen and Melissa Seamont to lead their offensive attack. Seamont is in the top ten of every notable offensive statistic the Lakers keep. She's currently second in career assists, fourth all time in points, and fifth in goals. Last season, Seamont tied for the best offensive season in Lakers history with a 24 point, nine-goal campaign.
"Melissa has really come into her own as a hockey player," Dillon said. "She's not big in stature, but she's one of the most gifted skaters I've seen in a long time."
Dillon hopes that with more tools to work with, Seamont can excel to an even greater extent.
"She was our threat last year with speed," Dillon said. "Now that she's surrounded with a little bit more, she's going to have a lot more help."
Even with their improvements, it will be an uphill battle for the Lakers to build upon last season's success. The ECAC West is dominated by Elmira College, who won the National Championship last season, and rival SUNY Plattsburgh, who won the league title.
Last season, the Lakers lost both games they played against the Soaring Eagles by a score of 4-3. As for the Cardinals, the Lakers have never once in the program's history, taken points from them.
The Lakers and Cardinals face off in the last weekend series of the season. The second game of that series is the Lakers' Senior Day.
Dillon said she thinks that could motivate the team just enough to end their pointless streak against Plattsburgh.
"I think it's time," she said. "It's our ice. It's our Senior Day."
Overall, there is an almost overwhelming sense in the Lakers locker room that this is their year to make a run in the ECAC West Conference.
"Right now our team is beaming with confidence and excitement," senior forward Megan Hagg said. "We have a full roster this year and some awesome additions to the team. On paper, we are an unstoppable squad. In order to bring it to the ice and prove ourselves, we will need to come together as a team and perfect our systems."