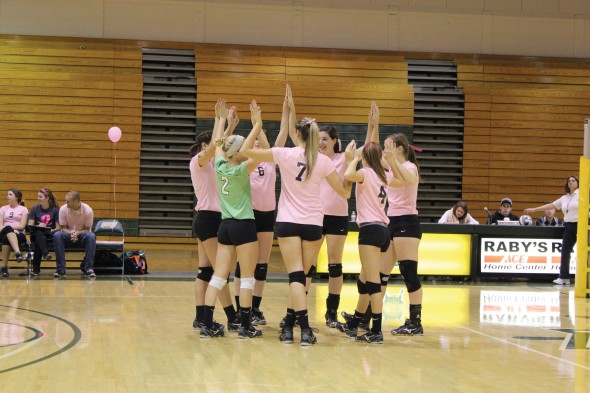 Coming off of a split in SUNYAC Pool Play at Potsdam, the Oswego State volleyball team returned home for a pair of games in the Oswego State Triangular.
The squad won both games in overbearing fashion, sweeping both matches three sets to none against Sage College and Alfred University.
This competition was part of Dig Pink, where the Lakers and the visiting sides all donned pink in support of raising money for the fight against breast cancer.
"It was nice to see everyone come out in support of Breast Cancer Awareness," head coach J.J. O'Connell said. "A special thanks to all the local businesses who donated to our raffle after the games."
The Lakers got off to a bit of rocky start against Sage early in the first set.
"We got off to a bit of a slow start," O'Connell said.
But the Lakers soon assumed control of the match. After winning a close first set, 25-20, they proceeded to take the next two sets each by a score of 25-12.
Stephanie Bailey and Emma Moriarty led the way, gaining 10 and nine kills, respectively. Lauren Edwards led the team in assists with 17.
But backup setter Lindsay Champitto, who has seen her playing time increase as the season has progressed, picked up 11 assists of her own during her time on the court. Champitto also finished second on the team in digs, with 11, five behind leader Rachel Ruggaber, who had 16.
The second game was won without much issue, again taking it in straight sets by scores of 25-14, 25-11, and 25-18. Edwards led the team in assists with 14 while also contributing nine digs. Bailey stopped six balls at the net, which was a common theme on the day for the Lakers.
"Our size overwhelmed our opponents today, as we out blocked them by a 16-3 margin," O'Connell said.
Kelsey Dillion led the team in kills in second game, notching 7 of them.
"We're continuing to see strong improvements from sophomore Kelsey Dillion on the right side, and freshman Lindsay Champitto at the setter position," O'Connell said.
Oswego State currently sits at 18-11 for the 2013 season. It will resume SUNYAC play this weekend at Buffalo State, where the Lakers will take on the hosts as well as the SUNY New Paltz Hawks and The College at Brockport Golden Eagles.