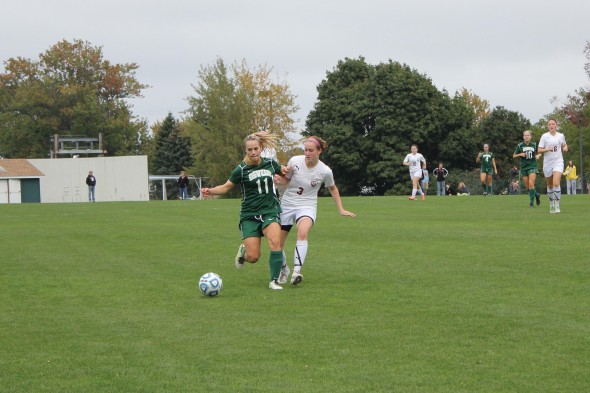 The Oswego State women's soccer team is having its best season in 17 years, and sophomore midfielder Bailey Waterbury is at the forefront of the program's resurgence.
The Lakers have clinched a playoff berth for the first time since 2002 and are one point away from hosting a playoff game at Laker Field.
"Bailey's one of those players you wish you had 26 of," women's soccer head coach, Brian McGrane said. "Her work rate and willingness to want to get better is something you don't always see."
Waterbury is currently leading the SUNYAC in assists with seven and is fourth on her team in points with nine (one goal, seven assists).
Last week, she was named the SUNYAC Offensive Player of the Week, as well as Oswego State Female Athlete of the Week. She earned those awards after a three-point game against SUNY Fredonia where she scored the game-tying goal and set up the game-winner, which propelled the Lakers to a crucial SUNYAC win.
She also had an assist in the playoff-clinching game against SUNY Geneseo.
Waterbury tried to divert attention from and credited her teammates for the program's success this year.
"It feels great to be at the top of the SUNYAC," Waterbury said. "We're finally putting Oswego on the map. We deserve it. We've been overlooked for so many years. I think our seniors and juniors deserve it."
Waterbury has grown to become an important part of the offense this season as a starting midfielder.
"I think I'm doing well," she said. "I'm getting some assists. I'm trying to step up as a sophomore and take a role in the midfield."
Some of her teammates were quick to compliment Waterbury's play this season, including senior forward and team captain Nikki Liadka.
"We definitely need her. We'd be struggling if we didn't have her." Liadka said. "She's a step above everyone else."
Senior defender Raquel Vescio had similar sentiments about Waterbury's value.
"She's a big part of our team. We need someone to get the ball up to our forwards." Vescio said. "She always gives 100 percent."
Waterbury has started all 15 games for the Lakers this season after starting in all 16 as a freshman, a rarity for an underclassman on a Division III team. Her coach is not the least bit surprised that his investment in Waterbury has paid off.
"I knew she had that type of game in her. I knew she was a competitor," McGrane said. "We knew when we got her that she was someone who could potentially start every game of her college career."
Though excited to have the opportunity last season, Waterbury admits she was nervous as a freshman.
"I was definitely nervous," Waterbury said. "I was worried going into the games that the level of play was going to be a lot different than high school."
Waterbury also admitted that those nerves had affected her on the field.
"The first couple of games I was scared to mess up," she said. "I played safe soccer."
Despite the butterflies, Waterbury's play on the field calmed her nerves.
She tallied four goals and one assist while starting at every position except goalkeeper her freshman year.
Waterbury credited her teammates for helping her adjust to the collegiate level of play.
"The team really took me in last year and made me comfortable playing," Waterbury said. "I thought the team helped me out on the field, telling me what to do and where to go."
This season, Waterbury has focused more on assisting goals instead of scoring them herself.
"Assisting's one of my favorite things to do," Waterbury said. "I like to be a play maker and share the ball."
That mindset has fit perfectly into this year's offensive scheme. Oswego State has taken pride in itself this season on the variety of offensive weapons it has.
Its top three scorers, Liadka and juniors Tia Segretto and Bri Dolan have combined for 39 points, 21 goals and seven assists, partly thanks to Waterbury.
"I try to look for Tia or Nikki up top because I know they're the ones who can finish," Waterbury said. "They're doing a really good job putting the ball in the back of the net, so it makes it easier to outlet the ball to them."
There is an irony in Waterbury's success at Oswego State and even her very attendance at this school, as Waterbury was born and raised in Plattsburgh.
Her parents, Chris and Karen, are the head coaches of the men's and women's soccer teams, respectively, at the Lakers' rival Plattsburgh.
The younger Waterbury seemed destined to be a Cardinal. She had played for her mom all her life and she was friends with a number of players on the team. Instead, Waterbury decided to go green.
"I wanted to prove to myself that I could play for another coach," she said.
Waterbury said that her parents were a bit shocked about her decision, but were supportive nonetheless.
"I wasn't originally looking at Oswego, so I think they were surprised," Waterbury said. "But they want me to do well. I don't think I'll ever see them wearing an Oswego sweatshirt though."
Waterbury is currently 2-0 against her mom. The Lakers defeated the Cardinals 2-1 in the annual meeting during Waterbury's freshman year. This season, Oswego State earned a 2-0 victory with an assist from Waterbury.
Despite the family ties, Waterbury assures there's no love lost.
"I want to go 4-0 against Plattsburgh during my career here," she said.
In only two short years, Waterbury has gone from prospect to star for the Lakers. She has won the confidence of her coach and teammates and has established herself as a notable player in the SUNYAC.
McGrane said the best has yet to come for his young star player.
"When we meet in the spring, a lot of the things we're going to do will be possession specific," he said. "For her it'll be turning with the ball as quickly she can, playing the quicker on the dribble, and getting forward quicker. I think in the next two years she's going to turn a lot of heads."
Waterbury has enjoyed her time as a Laker and is looking to continue to improve and help lead Oswego State to a SUNYAC championship.
If she continues to perform well and spread the ball, she may lead the Lakers to  the championship.
The 10-5-0 Lakers (5-3 SUNYAC) have one game remaining this season and will hit the road on Saturday for a big conference match against SUNY Cortland (6-4-5, 4-1-3 SUNYAC).