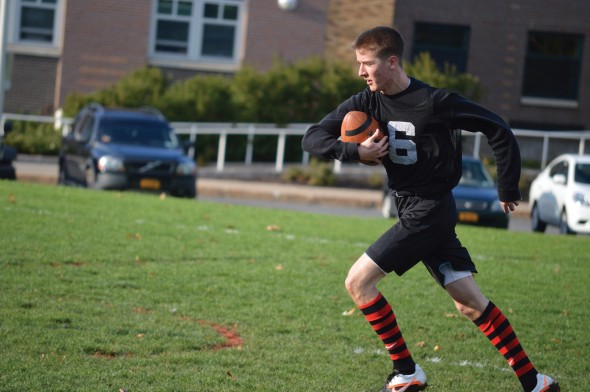 A new champion has been crowned in the intramural flag football playoffs.  Team 4-Rip stormed through the playoff bracket, winning almost every game in convincing fashion to take the top spot for the fall season. However, they were not the only story-line for the tournament.
The weekend started off with the underdog 17-seeded Eskimo Brothers making a Cinderella run, squeezing through the bracket and beating all higher seeds, until the semifinals when they were outlasted by The Guild.
On the top half of the bracket, the No. 10 seed, Win or Lose we All…, upset the four-time defending champion Hell Hounds with last-minute heroics, earning their bid  to the semifinals.
With an instant classic in the making, 4-Rip skinned by Win or Lose we All…, 19-7, to get to the title game.  In the finale, 4-Rip proved to be too powerful for the Guild, winning by a final of 27-6 to become champions.
4-Rip was led all season by quarterback Andy Falvey, who used both his arm and his legs to dominate opposing defenses.
4-Rip was not the only championship team crowned this week, as both co-rec and men's competitive softball leagues completed their playoffs.
In co-rec, WTOP and Athletes, who has been the dominant team all season long, completed their quest for a title with a 3-1 win over Funnelle All-Stars.
In a defensive battle, WTOP and Athletes was able to use their solid pitching and fundamentals to keep Funnelle All-Stars off the board for the majority of the contest.
An RBI single by Matt Stone in the 4th inning would stretch the lead for WTOP and Athletes to 3-0 and give them all the breathing room they would need to guarantee a victory.
In men's competitive, second seed The Guild was able to top fourth-seeded Sons of Pitches 10-7 in a competitive championship matchup.
After falling behind early, Iggy Trentanelli notched a second-inning grand slam for The Guild to narrow the gap, and the offense then exploded for six more runs in the bottom of the 4th inning to take a 10-7 lead which the team would never relinquish.
They followed that offensive outburst up by retiring the side in the fifth to earn the league championship.