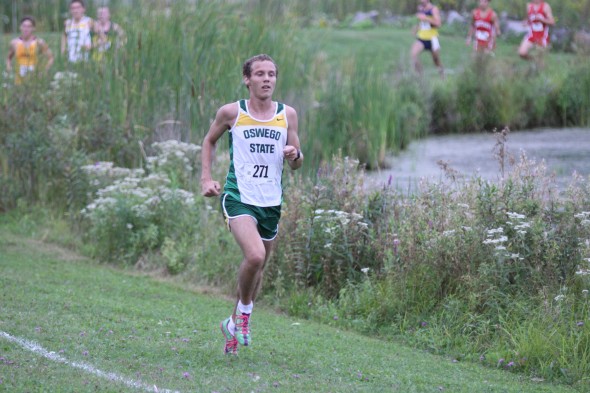 Damian Archie has had a successful senior year for the Oswego State men's cross country team and could not be happier at Oswego State after transferring from Broome Community College.
"I've loved Oswego so far," he said via email. "It's a whole new change and different atmosphere than being at a community college."
While many talk about the horrible winters of Oswego, Archie has embraced them and the city as a whole.
"I also made it through the first winter. It's a lot more exciting when you have to run out in those temperatures everyday too," Archie said. "We run all over the city and it's more interesting than back home in a fairly big city. Here there's so much history with the fort and so many parks and trails you can go explore, I love it."
Archie said that his time at Oswego State has been valuable, as the program has helped him become a stronger runner than he was at his former school.
"At Broome, we practiced maybe five days a week and ran around 30 miles a week.," Archie said. "Broome was more laid back than here. We still have a lot of fun here, but it is taken more serious by all of us as we all want to do well."
Archie has also enjoyed the higher level of competition both in practice and during races with Oswego State.
"The competition isn't as strong when I was at Broome compared to some of these SUNYAC teams we race against," Archie said.
"This season we've been in the upper-60 miles a week and the workouts are exponentially more challenging. We also did most of our workouts on a track, where here we do our workouts around the lagoon on grass. You go from running around 40th place at a national meet in the NJCAA to 100-something at a regional meet in the NCAA while running over a minute faster."
Archie did not participate in cross-country until college, as he chose not to run during high school. Yet, he has still managed to post solid times and strong results this season.
Archie is very happy with his races so far, considering how much work he has put in during practice.
"I've already ran 30 seconds faster than last year and only feel like I'm getting faster," Archie said. "The workouts we've been doing, on paper, would look extremely difficult last year, but this year, they are still challenging and I feel good doing them."
Archie said he will continue to work hard in practice to better prepare himself for the rigors of championship races.
"The times from last year are starting to carry over and, although there's only one meet left until championships, there's still three weeks left until then," Archie said.
"That's plenty of time to work out the kinks and get ourselves in better shape and prepare for SUNYACS."
This past Friday, the men's and women's cross country teams participated in an intra-squad meet.
Archie said that both teams looked good across the board, and he is excited to see how it will translate into the team's remaining meets.
"We have several seniors this year who will be leaving, so it's the last year to do something big and we're all very excited," Archie said.
One of the goals Archie has for the upcoming championship meets is to break the 26-minute mark. If he can accomplish that feat, he said he thinks he can make the All-Conference and All-Region teams and try to make the cut for Nationals. He also said that the team is shooting to move up in the SUNYAC standings and will fight to become one of the top 16 teams in the region. Archie said the national meet is also always a goal for a cross-country team, though he cited the difficulties in doing so.
"The national meet is very difficult to get into, especially running in the SUNYAC conference," Archie said. "There are so many really good teams in this region that beat most of the D1 teams in the state. We would all have to drop 1-2 minutes each in order to match up with some of the top teams, which isn't all impossible, but it would take the perfect race on our part with some bad races by other teams."