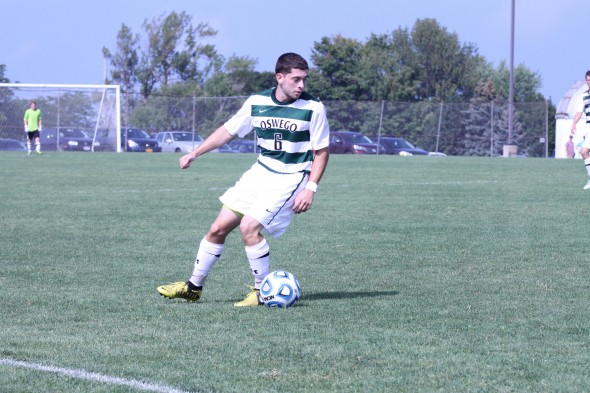 With just three games left in the 2013 season, the Oswego State men's soccer team has a lot of work to do if it wants to make the postseason.
The Lakers (0-4-2, 0-9-3) are in last place in the SUNYAC, which has 10 teams, with just two points.
In the SUNYAC, only the top six teams advance to the conference tournament. At the moment, Oswego State sits four points behind the sixth spot shared by Buffalo State and SUNY New Paltz.
A win counts for three points and a tie earns one point, so closing a four-point gap in three games is far from impossible.
However, the Lakers' remaining schedule is full of tough matchups, so any three-point result will have to be truly earned.
Oswego State does have the advantage of playing all of their remaining games at home on Laker Field.
The Lakers will start the home stand by facing The College at Brockport (3-1-1, 8-1-3, 10 points) today at 3 p.m., in their Breast Cancer Awareness game, followed by a match against SUNY Geneseo (3-2, 6-2-2, 9 points) Saturday afternoon at 1 p.m.
The Lakers will wrap up the season next Saturday afternoon with Senior Day against second place SUNY Cortland (4-2, 7-6, 12 points).
Oswego State will look to its seniors, playing to extend their college careers, to step up.
Those seniors include their captains Mike Naab and Brendan Beisner, along with Ryan Tibbetts, Eddie Silvestro, J.J. McLoughlin and Brandyn Peters.
Four of the six fourth-year players have contributed to the Lakers' offense statistically this season and each of them has shown flashes of scoring capability at one time or another.
As many around the team say, they have the talent, but it is just about "stringing it together."
In the next three games that is what needs to be done in order to see soccer past Oct. 26.
Naab leads the team with four goals and an assist, but it will take more than his efforts atop the Oswego State formation to get the job done.
That being said, the players coming back will need to perform as well and they're ready to.
"It's all about playing for the seniors right now," junior midfielder Zack Saccocio said. "We're going to send them off with a few more good memories."
The underclassmen can definitely help in that respect. Sophomore Patrick Sprague is second on the team in goals with two, and with his speed and foot skills, he can surely add another much-needed dimension to spark Oswego State's offensive attack.
Facilitating Naab and Sprague will start in the midfield, where Oswego State has a plethora of talented distributors, including Saccocio, Beisner, Tibbetts and junior Michael Fuss.
They are expected to win balls around midfield and start the break, where Naab and Sprague are most effective.
Look for Silvestro and McLoughlin to supply some chances from the back line, as each has shown strong and accurate punting ability throughout the season.
Turning to Friday's action, the Golden Eagles are currently in third place in the conference, but their postseason berth is far from sealed.
Led by sophomore Peter DiLorenzo, who has a SUNYAC-leading eight goals and senior Bobby Ross, who has added four goals along with four assists, SUNY Brockport has no trouble finding the back of the net.
The Golden Eagles average two goals a game, a total Oswego State has only reached twice in 2013, so the Lakers freshman goalie, Jon Runge, will be crucial for any success.
Oswego State will need strong communication between Runge and his defensive backs in order to balance possession and create opportunities.
The offense's ability to attack Brockport sophomore goalie Casey Sullivan will take pressure off Runge, after such a high-pressure freshman campaign.
This task will be a tall one, as Sullivan is the conference leader in shutouts (seven), save percentage (.908) and goals against average (.480).
Moving onto Saturday, the Knights are battling for their playoff spot more than any of the Lakers' final three opponents, as they sit in fifth place.
Averaging just over a goal in their five games in October, Geneseo is a team that relies on strong goalkeeping from their tandem to win.
Senior Dan Maddock and sophomore Logan Calvey have split time evenly this season, each allowing less than two goals per game.
The Lakers will need to be effective and quick with their counter attack on offense in order to take advantage of the Knights scoring struggles.
On Oct. 26, Oswego State will say goodbye to its six seniors against a conference rival in SUNY Cortland.
Cortland is the closest SUNYAC school geographically to Oswego State and has become the Lakers' second-biggest rival, behind SUNY Plattsburgh.
The Red Dragons are one of the most balanced squads in the conference. They are led by senior, Bryan Merlos, junior Darren McCormack and sophomore Dillon Johnson, who each have scored five goals in 2013.
SUNY Cortland has outscored opponents 26-19 this season, which is also attributed to solid goal keeping by junior Tim Beauvais.
Beauvais leads the SUNYAC in saves per game with just under seven, and is third in the conference with four shutouts.
The Lakers will surely have their hands full as they try to send off the class of 2013.
Coming into this final three game stretch, Oswego State has been starting to put the pieces together. It has lost two of its last four to Buffalo State and SUNY Plattsburgh, but it picked up its second and third draws of 2013 as well, against SUNY Fredonia and SUNY Potsdam.
While the Lakers have a lot of work to do, their coaches have confidence that they can still do this if they take it one step at a time.
"Our team's focused to win these three games," assistant coach Brett Littlefield said. "It's one game at a time, starting this Friday."