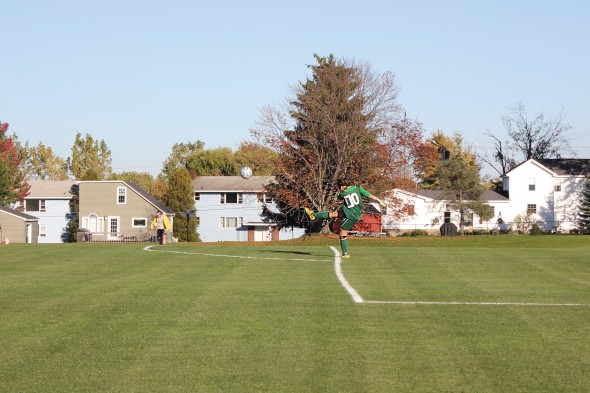 Sophomore goaltender Alyssa Glasshagel has made life easier for the 8-5 Oswego State women's soccer team through her performance between the posts. Her play can be summed up with one particular play last weekend.
In a scoreless game, a visiting player found a hole in the back line of the Lakers' defense and broke through for a breakaway attempt. The player glanced down for just a moment to take the perfect lethal touch. When she looked up, she saw Glasshagel stationed at the top of the 18-yard box, waiting to make a play.
Surprised by Glasshagel's approach to the ball, the visiting player panicked and shot early, a low shot, flat on the ground. Glasshagel collapsed to the ground and smothers the ball, her intellect and ability to play the ball providing the Lakers with a terrific presence between the posts on that play and more.
When teammates and coaches talk about Glasshagel, the key word out of everyone's mouth is confidence.
"She's a confident kid," Lakers head coach Brian McGrane said.
Glasshagel's confidence is soaring after earning the starting goalkeeper job for the Lakers as a sophomore.
She has a goals-against-average of just over one and has four wins on the season despite splitting time with senior and former starter goalie Emily Varonier earlier in the season.
The way Glasshagel has gone about handling her responsibility as a starting goalkeeper has impressed her teammates.
"She's confident in her position and she knows what she's doing," sophomore midfielder Baily Waterbury said. "She knows what she has to get done and does it."
Glasshagel understands the leadership responsibility that comes with being a goalkeeper and the modesty that comes with being an underclassman.
"We all know that on the field, the goalie is the commander," Glasshagel said. "Off the field, I'm an underclassman. With the other upperclassmen and especially the captains, I let them know that I know my place. At the same time, they respect me as much as I respect them."
Glasshagel started the season in a goalkeeping platoon with Varonier. Her hard work caught the eye of her coach and she was named the starter after nine games. During the prior two seasons, Varonier, her predecessor, had started all but one game in goal.
"It's bittersweet," Glasshagel said about winning the starting job. "I'm so close with [Varonier]. We feed off each other at practice. We give each other our inspiration and our competition levels rises because of it. But I worked so hard for it that I can't not be happy for myself."
Standard procedure normally calls for the player with the most experience to start over the inexperienced if their skill sets are relatively equal. But McGrane does not see himself as going against conventional wisdom with his decision to start Glasshagel.
"Both of them competed and we just felt that Alyssa was playing with at a little bit more confidence," he said.
McGrane and the Lakers have not regretted that decision. Glasshagel has been one of the players at the forefront of a bounce-back year for the Lakers.
They currently sits at 8-5, one win better than all of last season, and the team credits Glasshagel's strong play as a key to their success.
"Everything starts from the back," Waterbury said. "We're able to trust that she can save us."
Glasshagel has been facing adversity for as long she's been between the posts. At five feet, two inches tall, she is short for a position that usually requires more size.
"My height's been an issue since I started playing soccer," Glasshagel said. "Everyone's always told me I'm the shortest one on the field."
Glasshagel started playing goalie at the age of five. She was put in the position because she "couldn't play anywhere else." She quickly fell in love with the idea of being a shot stopper.
"I grew a love for it," she said.
She once had a coach tell her that she would never play soccer in college, telling her she was too short, too slow and not good enough.
"He's the reason I'm playing college ball," Glasshagel said. "It motivated me."
Glasshagel has worked to use her height to her advantage.
"My strengths are my low balls just because of my height," she said. "I've worked hard on my breakaways and low balls to make sure that's concrete."
Glasshagel admits that she sometimes has issues with shots and crosses that are high, though she refused to acknowledge it as a weakness.
"I don't call it a weakness because I've been working on them," she said. "I always work on them, but you know, 5' 2''."
Glasshagel's height came into play during two conference games this season against SUNY Potsdam and Buffalo State.
Both games were losses for the Lakers. Each of the game-winning goals were high arcing shots that a taller goalkeeper could have potentially  stopped, something McGrane denies.
"At this level, all goalies, no matter what their height are going to have trouble with high balls," McGrane said.
Glasshagel, for her part, has not let the setbacks bother her too much.
"Being a goalkeeper, you have to realize that there are good goals and there are bad goals," she said. "Even if you have a bad goal go in, you can't take it to heart, especially into the next game, or you're not going to play right."
Her poise has impressed her teammates, as she does not let anything get to her from the bad goals to the success and pressure of being in a playoff run.
"I've learned from being a goalkeeper for so long," Glasshagel said, "that you have to take in the experience then, let it go."