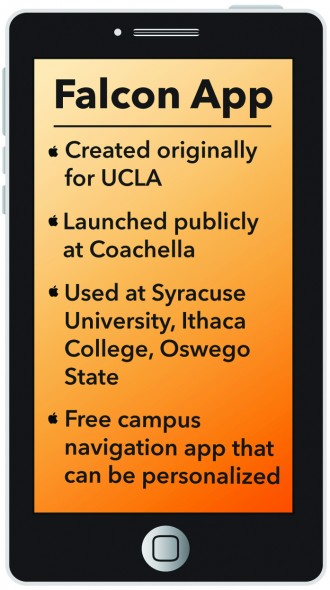 Every college campus has its little "quirks," and Oswego State's is no exception. Between the headache of a parking system and the split levels in Shineman, students, including seniors, need help finding their way around. The Falcon App was made by the UCLA campus to help new students understand the campus during freshman orientation.
The app was developed and founded by two UCLA students, Ali Baghshomali and Matt Austin, and was originally used for the UCLA campus, but then spread across California.
"We felt like in this day and age, where everybody is walking around with a smartphone in their pocket, people really shouldn't be getting lost anymore," Baghshomali said. "Yet everyday on campus we would be approached by students and visitors who would ask us where a certain building was and we had to help them get there. We had a similar experience in places like music festivals and fairs, and we decided to address this problem with a mobile app customized to these types of places."
The app was first launched to the general public at Coachella, a prominent music festival in the Golden State. The founders said in their blog that they hoped the app would help festival-goers "if there's poor cell service, if they lost their friends or campsite, or if they just wanna make sure they remember where their secret meetup spot is." And that is not all the app was capable of, as music listeners could find the nearest bathroom between set lists.
With the success of Coachella behind them, the co-founders began developing apps for 100 colleges across the country, including Syracuse University, Ithaca College, and Oswego State.
"For students who are just visiting overnight, the campus can be confusing, this app would really be helpful in making sure they don't get lost and so they don't get separated from their host student," Logan Macy, an intern for the admissions department, said.
Falcon is free to download and first asks users to make an account to message with friends and share their location. After selecting their school, students are brought to a list of locations across the Oswego State campus including residence halls, academic buildings, sports facilities and dining centers. Falcon then directs students to locations using a compass or Google maps.
"That's so cool," junior Tim Bowman said. "The Oswego campus is divided into parts, which can be really confusing as a freshman."
The most interesting aspect of the app is its ability to be personalized. Users can make a list of favorite spots, called "My Spots," around campus. Thanks to its capability of being used off major roadways and paths, a favorite spot may be a bench in the quad or a spot by the lake.
A feature that will save many students from headaches and panic attacks is the app's capability to remember parking spots. On-campus drivers and commuters can mark a pin where they park and then be directed back at a later time. Junior Morgan Gualteri thought this was a great idea.
"I get lost a lot," Gualteri said, "and in a big parking lot, I sometimes can't remember where I'm parked."
Students can also collaborate to develop the most comprehensive map of the Oswego State campus. The Falcon app will frequently update with locations added by students and lets students browse their friends' locations and their "My Spots."
Both Bowman and Gualteri believe the one downfall of the app is that it cannot help students navigate inside buildings.
"Shineman and the Campus Center are sometimes very confusing," Gualteri said. "If the app included maps of buildings, I would use it all the time."
Freshmen and transfer students across the country will now be able to feel much more comfortable on their first day, no map required. The Falcon App is available for downloading on the Itunes store for free.