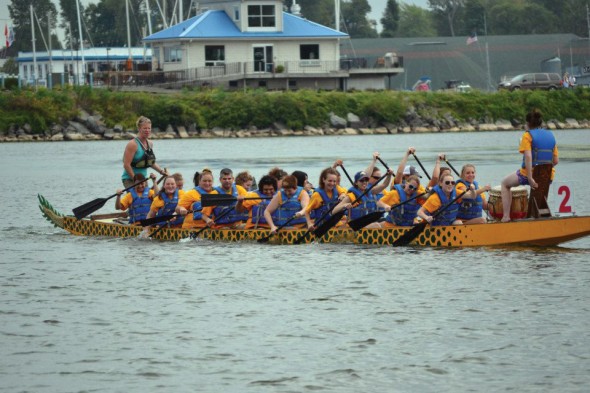 The Oswego community paddled their way to Breitbeck Park on Saturday, Sept. 7 for the second annual Dragon Boat Festival.  Packed with over 20 teams and a plethora of community organizations, the festival raised the better end of $50,000 for YMCA of Oswego's Strong Kids Campaign.
A dragon boat is a long wooden row boat that takes 22 paddlers to race.  Teams consisted of community businesses, students from Oswego State and even squads traveling down from Canada.  The festival kicked off with a captain's meeting, followed by the traditional opening ceremonies where each captain walked behind the ceremonial dragon. The park was full of tents from each team decorated to a theme of the team's choice.
Students and community members enjoyed the atmosphere of the festival.
"Everyone had a bunch of energy and good vibes," Emily Anderson a member of the Lifestyle Center team, said. "It was nice to all be a part of a great cause."
Anderson's team, along with all the others, were required to fundraise to enter the festival.  The festival fell just short of its $65,000 goal, but the money raised was an increase from the previous year.
At 9 a.m., the races began.  Three teams were summoned to the on-deck area, where they received the mandatory lifejackets  and paddles.  Once the teams were equipped, they were ushered down to the water where the dragon boats were entered.  Paired with a professional steer captain teams paddled down the bay to the starting line.  A starting judge lined the boats up even at the line to send them off.  Teams paddled 300 yards to the finish line.
The early races were based on time.  Each team had two guaranteed heats, one in the morning and one in the afternoon. The top 12 teams, depending on their time posted in the heats, advanced to the final rounds. Races continued all through the morning until a lunch break.  When teams were not racing they were enjoying the games and vendors the festival had on deck.
The afternoon setup for the second heats, where teams battled for a top 12 spot.  The energy kept flowing throughout the day, with the community acting as one.
"It was nice students were not treated like they didn't belong," said Tommy Seefeld of the campus recreation staff team.  "The whole atmosphere of the people running and participating was welcoming."
As the festival came to an end the focus was already to next year's event, where the Oswego YMCA hopes to host the next years third annual Dragon Boat Festival.