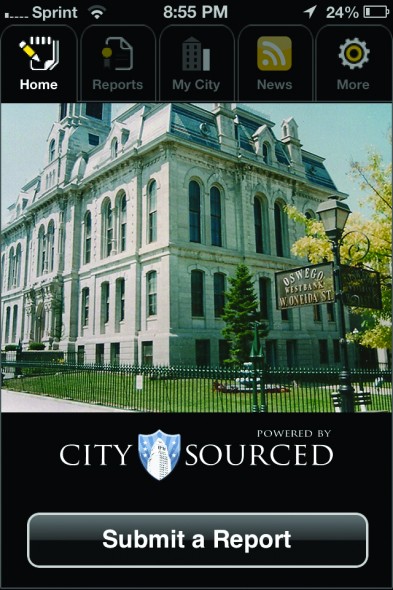 The city of Oswego has launched an application for residents to report problems or code violations: Oswego Mobile.
Oswego Mobile is a real-time civic engagement platform, established to identify civic issues and to enhance public safety, quality of life and environmental issues, according to the iTunes App Store. Users of the app may report any unexpected issues by taking a picture, video or audio recording, after they pin the location of the issue to a map or manually put the address or location in. Issues include abandoned vehicles, animal control, flooding in the street, graffiti, illegal parking, street signs, trash removal and water leaks, to name a few from the drop down list.
Users can refer to the reports by arranging them in the 'list view' or by spotting pinned locations in the 'map view' so they can avoid issues or malfunctions in the city. Reports would be sent straight to the designated office, such as the Oswego Police Department, the Public Works Department, the Oswego Traffic Department or the Engineering/Zoning Office after the app determines the appropriate department. The statuses of reports will be updated and users may keep track of them.
"You can select the issue from the drop down list and [the report] will determine where it gets sent," said Councilor Eric I. Van Buren, 6th Ward of the Oswego Common Council. "You can add comments before it's sent off if you want to add more info and after, you will be notified it was received by the department it was sent to. After that, as the department beings work on it, you can see the status up until it's finished. "
The latest version of iOS Oswego Mobile 1.5.10 was updated on Aug. 2, 2013, with the bug affecting base imagery fixed since its first establishment on April 11.
"We [Oswego Common Council] spent a lot time testing it internally to make sure we could work out any kinks the departments might have before releasing it to the public," Van Buren said.
As of Sept. 11, there were 14 reported cases in iOS Oswego Mobile, including one curb cut, two street signs, one furniture on porches, two report property violations, one noxious weeds, one animal services, one abandoned bicycle, one storm drain problem and four others not listed among the options.
This app is based upon the application named CitySourced. CitySourced, Inc. is a Silicon Valley-oriented venture company, which officially launched the app to the public as part of TechCrunch 2009. After success in Californian cities, including San Jose, San Francisco and Los Angeles, it has expanded the range of business nationwide and beyond. The app is currently used in seven countries across four continents, including England (Gravesham), and Australia (Adelaide). As of Sept. 11, 2013, there are over 40 CitySourced-affiliated apps on the iTunes App Store, the Windows Phone Apps+Games Store and the Google Play (Android) Store, and there are 24 on BlackBerry World. Oswego Mobile was the first app to be established in New York State.
"Oswego is the first municipality in New York using a CitySourced platform," said Andrew Kirk, director of sales and marketing at CitySourced. "Oswego was the first site in New York State because we were approached directly by Eric Van Buren from the city. After the successful launch of Oswego, we are interested in further expansion in New York State."
"We wanted a better way to keep track of what we were doing as councilors and a more modern way to reduce our paper use," Van Buren said. "Also, this allowed us to see trends in what was being reported on regularly with maps and graphs."
The app is currently out for download on iOS, Android and Blackberry markets and can be found searching Oswego Mobile or Oswego, N.Y. in each respective app store, according to Van Buren.