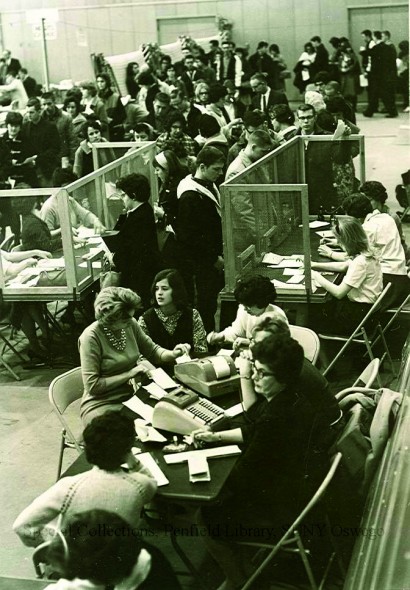 While Oswego State students today often have complaints about the process of online registration, the labor and time involved pales in comparison to class registration before it was placed on the Internet. Due to the technological differences, an entirely different set of practices was required and a unique culture around registration was born.
Students today know registration as a 20 to 30 minute process that involves writing down CRNs and placing them into their account page on the myOswego website. It's a process that involves planning a few weeks ahead of time and students desperately tracking the spaces left in classes they picked in hopes they are still available when their time slot finally arrives.
While the current registration process has amassed its fair share of complaints, ranging from times that conflict with class, to class slots that fill up before some students get the chance to even register, the complaints appear trivial when compared to some of the issues that occured when trying to register thousands of students without computers.
That was the challenge faced by registrar Casey Walpole, who began working in the Oswego State Registrar's Office in 1981. She, along with the rest of the Registrar's Office, had to find a way to place and keep track of a large student body without the benefit of an online database.
"We had a lot of paper and did a lot of mailing in those days," Walpole said, adding that the Registrar's Office in Culkin Hall used to have several rooms dedicated to housing the bins full of student's schedules from that semester.
"It was always a good thing at the end of the semester when we could get rid of the schedules, because we always had so much stuff," Walpole said.
The Registrar's Office used to employ up to 80 student-workers to help with the process.
"It was very labor intensive," Walpole said. "Not having things computerized, you had to do everything by hand."
Before registration was switched to an online system in 1989, the process involved two major time periods each year: a pre-registration period, held toward the end of each semester similar to registration today, and then the actual registration day, held the last Friday before classes started each semester.
For pre-registration, students would first meet with their advisors to go over their transcripts and plan what classes to take for the next semester. Students were required to have a signed card from an advisor that indicated they had met with him or her and planned out their schedule.
Following the advisor meeting, students would meet with a Registrar's Office representative in the Hewitt Union Ballroom to come up with a tentative schedule. Students were given half sheets of paper that represented classes they would register for on registration day the next spring or fall. The half sheets were then placed into a packet for the student to pick back up on registration day.
While an appointment-based system, similar to the one used in online registration, was eventually adopted by the Registrar's Office, the earlier years of the process involved long lines and frustration for students.
A 1981 story from The Oswegonian archives talked about students who would wait in lines up to seven hours long and still be shut out of classes. The article said students would line up at 9 a.m. in Hewitt Union to pre-register at 4 p.m. that day. The frustration with the process caused some students to skip the process all together.
"The seniors have taken all the upper division courses," a junior student in The Oswegonian story said. "Unless you get there at the crack of dawn, there's no chance for juniors to get upper division courses. It's better to just speak to individual teachers and try to petition the courses."
The process was smoothed out when the pre-registration system was switched to by appointment, but some problems did still persist.
John Kares Smith, a professor in the Department of Communication Studies for more than 30 years, said that professors would at times neglect the advising they had to do.
"I know faculty that would tack their list of advisees to the door and have a whole bunch of forms there, and you would check off your name and take the form that's already signed and then sign up for whatever classes you'd like," Kares Smith said. "But then when the time came to graduate you'd say 'well it's your fault, you should have checked the catalog.' Not very nice."
The final registration day, first held in Romney Field House before being shifted to Laker Hall in the '80s, was a large event for the school that acted as an opening event for the semester, where students and professors would interact for the first time since break.
"You know, the kids are there and we would ask 'Whats going on at your end of the bus?' 'What did you do over winter break?' … 'What's going on? I used to enjoy that very much," Kares Smith said.
Preparing the gym for the event took several days of work from both the custodial staff, who would move and set up the tables in the days before, and the registrar's staff, who organized each table and set out the student registration packets.
"It was not an easy process," said Walpole, who led a staff that included several students who came back to school early to work the event. "It took hours."
Students would be allowed to enter the gym based on class standing (seniors first) and then would proceed to the main registration table to pick up their packets from pre-registration. Following that, students would go to the booths of the department of the courses they wished to take and received a punch card from a professor who was stationed there. When students had the punch cards for the courses they needed, they could proceed to the "check-out booth," where schedules were finalized.
"We only had the one computer, so students had to write down their schedules and go off of that, because we couldn't make copies," Walpole said.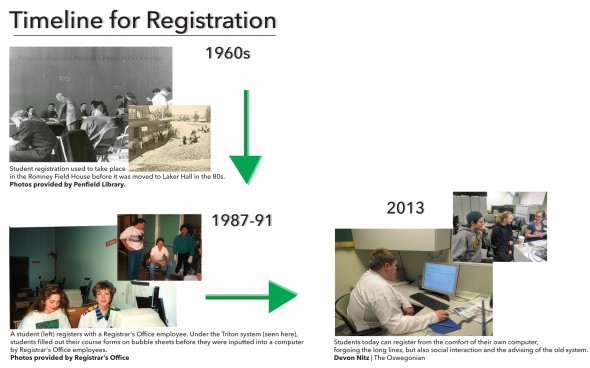 Beyond just registration, the day acted as a "one-stop shop" for student needs, according to Walpole. The gym held tables for parking registration, setting up meal plans, registration for identification cards and a student accounts tent for students to pay bills.
One area, the "Drop Table," where students would go to drop a course they had pre-registered for, took on the feeling of a flea market, with students bargaining off unwanted classes.
"As much as they weren't supposed to, they'd be over there 'Hey I got a History 102, what do you got?'" Walpole said. "They'd be trading them off."
Kares Smith said that professors would get in on the trades as well.
"I could go to professors in business and go 'If I take two of your marketing students, can you take two of my comm. students?'" Kares Smith said.
Beyond bargaining with each other, professors and even deans would set up tables in Romney Field House or Laker Hall and provide students with help.
"A lot of faculty would try to get out of it," Kares Smith said. "'Do you really want to sit in the gym all day?' Well, yeah. I like to do it."
Kares Smith said he enjoyed being able to work directly with the students and was able to solve problems for students more easily.
"If you wanted a class that was closed, you could pretty much find your advisor and say 'Hey, this is a required course in the humanities, I can't get into it' and I can read the catalog and say 'Well have you thought of Art 250 rather than Theater 110' and then I'd send you over to the Art Department, and if there was a card left for that class, that's what you would take," Kares Smith said.
Controlling such a large amount of students in one gym provided a unique set of challenges, including preventing students from sneaking in and registering before it was their time.
"I once caught the hockey team trying to sneak in through the back door," Walpole said.
The hockey players would redeem themselves in later years, however, when they were hired to work security at the event.
"We had the whole team working for us once," Walpole said. "They would watch the door and make sure everyone came in only when their card said they could."
Holds, perhaps the most dreaded aspect of today's process, were in effect then as well, only with less of a warning than today's online page provides. If a student had an unpaid parking ticket or fee, a hold would be placed into their packet at the end of the pre-registration process. Students were not likely to discover the hold until they had arrived for registration to find it clipped to their packets.
"We could get really held up at the pick-up tables when people discovered that they had holds," Walpole said. "It really jammed us up."
Walpole said planning the events was a process that she enjoyed and brought the office and students together.
"I made some great friends back in those days and I'm still friends with them 30 years later," Walpole said.
In 1989, the Registrar's Office shifted to the Triton system, an online form of registration. Students would fill out bubble sheets and bring them into computer banks set up in Hewitt Union, where a representative from the Registrar's Office would enter them into the computer system.
In the mid '90s, the office shifted registration to an over-the-phone system that required students to enter course codes into an operator-based system. The system was not popular with students or faculty, and did not last long.
"The phone was terrible," Walpole said. "You'd have to put in your five digit CRN and then listen to the message and then push the button to get the class. It was awful. We did that only for a couple of years."
The phone system was replaced by a Banner online system that was the first the school had employed that allowed students to register for their own courses on online. That same Banner system has evolved since then to become the myOswego students know today.
Walpole, while acknowledging the challenges the former system presented, speaks fondly of the time before registration became fully online.
"I think most I miss the kids," Walpole said. "I enjoyed working with all the kids."
While the Registrar's Office once employed 80 students, it now employs three undergraduate students and one graduate student. The office was mostly quiet Wednesday afternoon, only a week before most students being to register, with three employees manning computers in the office, and none of the aforementioned bins to be found.
"The convenience of the computer is great, and everyone is so technological now that it is good we have that, but I miss the one-on-one and being with the students," Walpole said.
Walpole said she is concerned with how she can help students through the online registration.
"I just don't feel that we have the customer service that we used to have," Walpole said. "Because it's all computerized, and what can you explain on a phone when they call for help?"
Kares Smith said he has noticed the style of advising has changed with online registration as well. CAPP Reports and now Degree Works have made students more concentrated on working toward graduation requirements.
"Students come in with mindset of 'What courses can my advisor agree to put me into?' Instead of the broader picture of 'I'm majoring in social communication; what kind of jobs can that lead me to?'" Kares Smith said.
Kares Smith said that the style of advising was different when students had more in-person interaction with professors.
"Advisement was more life skills, lifestyle, what you were going to do with your degree, rather than just what courses you were taking," Kares Smith said.
Students now, Kares Smith said, are more likely to simply want their pin and register for themselves.
"If someone calls me up and asks 'What's my pin?' Well I have it right here, but I'm not going to give it to you," Kares Smith said. "You have to come in and talk."
Walpole said the myOswego system does help students to make their own choices, as far as adding and dropping courses or changing majors and minors.
"Before, with the popular classes, once you got them, you were stuck in those," Walpole said, "There was no way to really change. Now you can say 'Oh, I don't like that,' or 'I want to change my major' and then still be able to get into classes that you need. You couldn't do that back then."
Kares Smith said he hopes that, despite the ease myOswego provides students, they will still seek help from advisors beyond just filling in their requirements.
"I prefer advisement that includes more questions like 'Where do you plan to be five years after you graduate?' 'How can I help you to get there?'" Kares Smith said. "Which is a very different question from 'What section of math do I take?'"