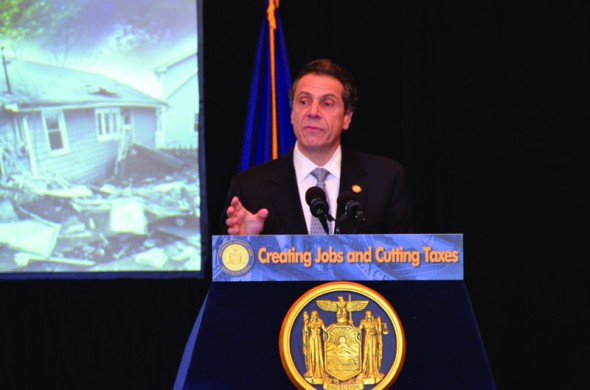 Gov. Andrew Cuomo visited Oswego State on a victory lap around New York after passing his third consecutive state budget on time.
Several members of local and state government attended the event, including Lt. Gov. Robert Duffy, Assemblyman Will Barclay, R-Pulaski, Sen. David Valesky, D-Oneida, and Oswego Mayor Tom Gillen to name a few.
President Deborah Stanley said, after a "great Oswego welcome," it is a pleasure to host the governor.
"It has truly been an honor to work side by side with Gov. Cuomo and his team and I thank him for his dedication to ensure that our SUNY system of higher education and all of the universities and colleges throughout New York State continue to be the best in the nation," Stanley said.
Duffy spoke of the changes the governor is making in Albany. He described the atmosphere in the state's government.
"It's people working together, there's a spirit of collegiality, it's both sides of the aisle, it's getting things done," Duffy said.
Barclay added to this notion that the state's government is working together.
"Even though I'm on a different side of the aisle from the governor, the lieutenant governor, there's a lot of things I don't really agree with them, I've got to say they have brought leadership and professionalism to New York State," Barclay said.
When Cuomo made his way to the podium, he joked about the priorities of the government.

Audio from the event, narrated by Seamus Lyman for WNYO

"The first priority that we have to address is, we have to unite as one, stand together, and we have to defeat Michigan this weekend, and go Syracuse," Cuomo said.
Cuomo spoke highly of the SUNY system calling it the "jewel for this state, for so long." He added that Oswego State is a prime example of the greatness of the state's university system.
The Governor outlined the 2013-2014 budget in three main parts: families, jobs and education.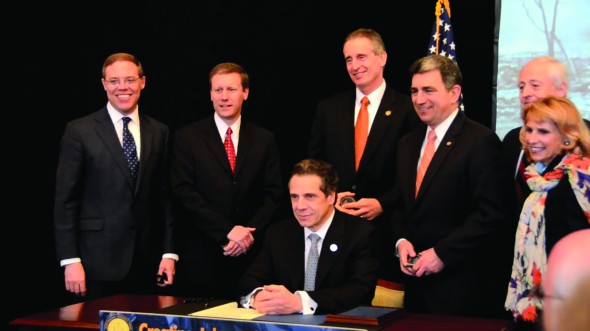 More than 61,000 families in Central New York will save a total of $21.4 million a year for three years thanks to tax credits for middle class families, according to a pamphlet released by the governor's office. Cuomo talked about how the middle class will have the lowest tax rates in almost 60 years. Cuomo said that tax cuts will help New Yorkers put their money to use in businesses within the state, something Cuomo heavily supports.
Cuomo stressed that tax cuts in the budget for businesses are essential to job creation. The budget is set to save a total of $36 million for over 17,000 businesses in the region. The governor spoke of Regional Economic Development Councils that are being started all across the state. He explained that the economy of the state was not a "one size fits all" economy, but a composition of several regional economies. This year's budget calls for a third round of these councils. The new budget also calls for raises in minimum wage, with plans for it to increase from $7.25 to $9.00 by 2015.
As for education, the budget includes 900.5 million in education aid for CNY and the statewide increase for aid of 4.9 percent according to a NYS Division of the Budget press release. Cuomo spoke of providing school districts with the opportunity to lengthen their school days and years.
"There are 700 school districts in this state, we're going to leave it to all 700 school districts to decide what they want to do, if anything," Cuomo said. "But as an incentive, any additional costs for more education, either a longer day or a longer year, the State of New York will pay 100 percent of the costs so that local district doesn't have to pay."
The budget also includes rewards for high-performing teachers, who will receive stipends for their success. A new implementation for teachers in New York will be for a teacher evaluation system. Cuomo said this would place more emphasis on teachers and performance, not on student behavior. The governor said that this well help find teachers who need help and in getting them the help they need. Cuomo recognizes that students in New York need to be able to compete on a global level rather than a national or local one.
The NYS 2013-2014 budget is Cuomo's third consecutive on time budget and the earliest since 1983. The last time the state passed three consecutive budgets was in 1984 and Cuomo's father Mario Cuomo was in office and held two of the budgets with former Gov. Hugh Carey holding the first of three. Cuomo is proud of his three consecutive budgets.
"My father had two on time budgets, I have three," Cuomo said. "Not that I'm competitive with the old man, I want you to know."
Rich Stein, president of the College Democrats of Oswego State, helped generate buzz on campus for the event.
"I got a contact from the Democratic Party and they were saying that the governor might be on his way," Stein said. "Then we got the final OK, and then we were notified, so then we started reminding people."
Stein said he had a great experience.
"There was a gentleman who was supposed to sit right behind the governor and I was ushered in at that seat and then the governor sat down, and that was the coolest moment, that was special," Stein said.
Other students, however, were not so lucky. Several students were turned away at the door and some complained on the event's Facebook page. Stein posted on the page apologizing and explaining that, due to the capacity of the room and a mix up with the RSVP list, students were cut off the list.
Gillen said the governor's visit is wonderful for the Port City.
"It's great, I think it just proves that Oswego is more than just a city in Upstate New York and it has a future, and it has friends in Albany and we have the same message," Gillen said. "We support the governor's whole message of working together to get things done and focus on creating jobs for the economy and creating a safe environment for our families and that's the key to success."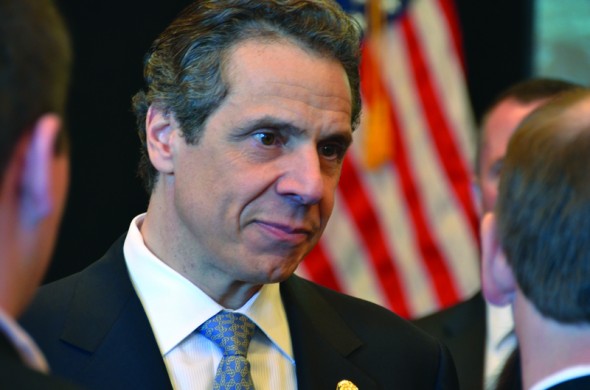 Click here to download an MP3 version of Seamus Lyman's coverage of this event