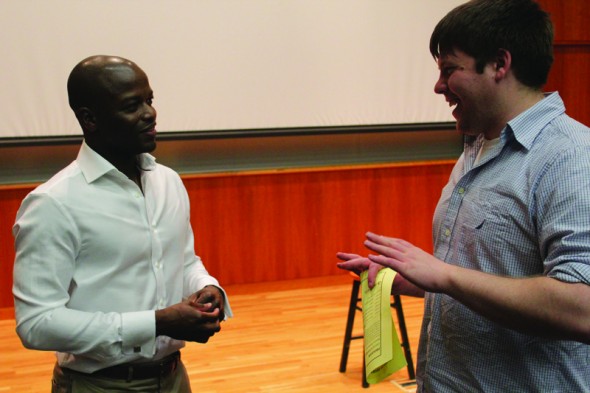 An Oswego State alumni spoke with students April 18 on his experiences as a black male broadcaster.
Kendis Gibson, who graduated from Oswego State in 1994, was the keynote speaker for this year's Voices of Diversity.
Voices of Diversity is a yearly event founded and organized by professor David Moody of the communications department. Moody works with students to create programs and events that promote diversity in the media.
"We are trying to share with you the minority representation in the media," Moody, who believes that the media industry lacks awareness and representation of minorities, said.
Moody began the Voices of Diversity last year and said ever since arriving in Oswego, it was in the back of his mind to bring some awareness to the issue of diversity in the communication fields. His main purpose is to "make some sense of the minority representation in the media."
Moody gathered a group of students and began working on the program. This year, Voices of Diversity consisted of a speech, an open question-and-answer session with Kendis Gibson and an invite-only luncheon for minority students excelling in the communication department on campus.
Students filled the seats of the Campus Center Auditorium, eager to get advice from Gibson, who is currently the general assignment reporter and a weekend anchor for ABC7/WJLA-TV, the ABC affiliate in Washington D.C.
Gibson confidently went over clips of his work and gave students tips and background information on his experiences. He made students laugh and feel comfortable around him as he spoke of moments where he pranked a viewer and a time at a restaurant he stopped to tell the famous actor, Morgan Freeman, happy birthday and Freeman recognized him.
Gibson warned students against getting an agent as soon as they graduated from college and explained that he believes TV news is dying and that the industry must adapt to the technological changes of society.
When asked about discrimination of the workplace, he said that if he has, it has not necessarily been to his face.
Gibson also explained that while at Oswego he did not feel a lot of discrimination against him and that he had overall an amazing experience.
"Once in a while you get someone yelling 'n****r' while walking down the street. That happened twice," Gibson said.
On the topic of diversity, Gibson feels that the biggest challenges faced by ethnic groups in the media industry is the fear of speaking up.
"In our morning meeting, we have a Latino reporter who is constantly assigned the immigration story, I think I would have a fit," Gibson said. "It's important for us to be able to feel like it's OK and our jobs aren't going to be on the line if we speak up in a newsroom environment about issues that are important to us."