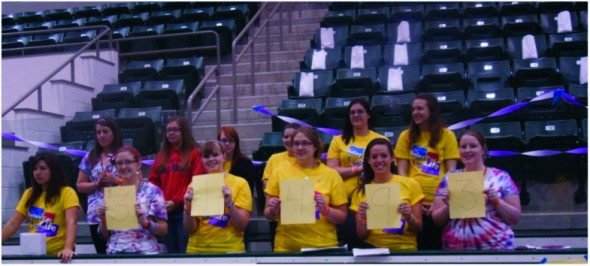 The student-run Oswego State Colleges Against Cancer organization is currently in the process of raising funds and registering teams for its Relay For Life event. The event, which will be held April 27 in the Campus Center Arena, is an all-night relay where participants camp out and take turns walking around the track in the arena.
This year's relay will be the sixth held on campus, each time hosted by the Colleges Against Cancer organization. Event organizer Karly Babcock said that, if the organization meets its fundraising goal of $40,000 for this year's event, they would have raised $200,000 total in the six fundraisers. All proceeds go to the American Cancer Society.
The American Cancer Society is a national organization dedicated to funding cancer research, education and advocacy. Relay For Life is an event launched by the American Cancer Society that has taken place in more than 5,200 communities and 20 countries and raises more than $400 million a year, according to the Relay For Life website.
The Oswego State Relay For Life, which will begin at 6 p.m. and continue until 6 a.m., will include raffles and items teams have made themselves to sell to raise funds for the American Cancer Society.
There are currently 43 teams and 295 participants signed up on the Oswego State's Relay For Life event page on the organization's website. The teams and participants have currently raised more than $14,000.
Past teams have sold items such as baked goods and even pies to smash in other team member's faces.
"It's up to the teams what they want to sell, so there are some creative things you will see," said Jessica McGinley, the marketing coordinator for Oswego State Colleges Against Cancer.
One Relay For Life team held a bake sale on campus this week, and Colleges Against Cancer will be hosting a fundraiser at Alley Cats on April 17. Anyone older than 18 is invited to attend, and the $2 fee at the door will be donated to the American Cancer Society.
Students or faculty members looking to attend can join a team or register their own on the Oswego State page on the Relay For Life website.
McGinley encouraged students to consider the people they can help out by registering and raising funds.
"Sadly, everyone knows at least one person affected by cancer. If there's something you can do about it to help save a life and to come up with a cure, you need to," McGinley said. "… If you could help a child, a mother, a father, a grandparent have one more birthday, you should donate. Come out and help save lives."
Babcock added that the event provides an opportunity to rally a group behind a great cause.
"It's a great way to get everyone together and fight against cancer," Babcock said.
More information can be found at the Oswego State Relay For Life page or at the Oswego State Colleges Against Cancer Facebook page.