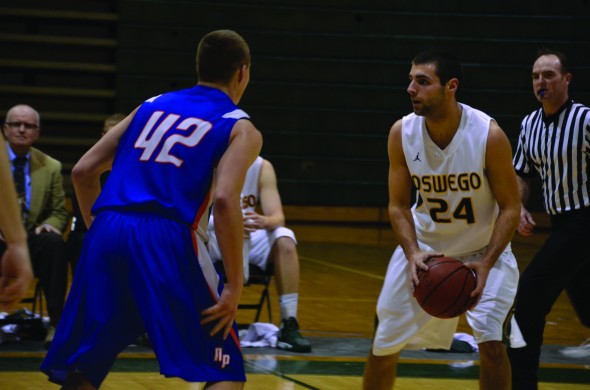 Finishing one win away from its third consecutive 20-win campaign, the Oswego State men's basketball team saw its season end at the hand of the conference's top team and rival, SUNY Cortland.
The Red Dragons completed the season sweep of the Lakers, defeating the Lakers in Cortland, 65-54. Oswego State head coach Jason Leone is proud of his team's efforts against an opponent which he admits was a lot for the Lakers to handle.
"Cortland was not a good match-up for us," Leone said. "We had trouble stopping them at the end of possessions, and (First Team All-SUNYAC selection) Jesse Winter is as good a guard in the conference at the pick and roll game. We used our zone, but like a good, senior-laden team, they made shots."
Senior captain Hayden Ward said the feeling after the game was unlike any other in his Oswego State career.
"I was upset because I thought we could beat Cortland," Ward said. "I was just numb (after the game). You start thinking about how it is all over."
Ward was voted the SUNYAC Player of the Year by the coaches on Tuesday after leading the conference in rebounds per game (9.6) and sixth in points per game (18.2) this season.
"It's a great feeling," Ward said. "I was surprised when I got the call from coach (Leone) because I thought Jesse (Winter) would win, just because they had won the tournament. But this award means a lot to me."
"The award is well-deserved," Leone said. "Hayden attacked the off-season at a high-level. What's amazing is that he (played so well) while getting double and triple teamed every night. He is one of the best rebounders I have ever coached."
Ward was also named to the first team All-SUNYAC for the second consecutive season. The forward earned a third team All-SUNYAC honor his sophomore season.
Oswego State (19-8, 11-7) was unable to match the prestigious win totals of the last two seasons, but Leone thought that his team handled the loss of a great senior class and the challenging SUNYAC schedule well.
"We lost only one game to a losing team all season," Leone said. "The SUNYAC was the best conference in the region and we played more new players than any team in the conference. We would have been a capable team in the NCAA, but it's hard to get there without winning your conference."
The Lakers will graduate five seniors (Ward, Chris Gilkes, Sean Michele, Alex Nollet and Alex Mirabito), a senior class that led the SUNYAC with 82 wins the last four years. When this senior class was in their sophomore year, the program won 24 games and went to its first NCAA tournament, hosting a pair of games before being eliminated in the second round. As juniors, the class helped the program win its first conference tournament since 1965, and they returned to the NCAA tournament for a second season, losing once again in the second round, this time by just a single point.
Ward ends his Lakers career as the 16th member of the program's 1,000-point club, finishing ninth all-time with 1,393 points. He finished second in program history with 892 rebounds. On Senior Night, he turned in career-highs of 33 points and 18 rebounds in a Feb. 12 win against SUNY Oneonta.
Gilkes ends his career with a well-rounded resume as one of the more complete players in program history. In 108 career games, Gilkes finishes with per-game figures of 9.2 points, 3.8 rebounds and 1.3 assists. In his senior season, Gilkes elevated his offensive performance in conference play, and finished with career-high marks of 12.4 points per game and 5.1 rebounds per game.
Michele earned a third team All-SUNYAC selection after leading the league in minutes this season, averaging 34.3 minutes in 18 conference games. He was seventh in the SUNYAC in assists with 3.1 per game. Michele was selected to the second team All-SUNYAC last season. Michele put up 142 steals and 444 assists for his career, both top 10 marks in program history.
Nollet was valued as a big body that can rebound and defend the interior with the best in the conference. He finishes his Oswego State career with single-game career-highs of 12 points, 10 rebounds and two blocks.
Mirabito evolved as much as any player during his four years with the Laker program. Mirabito carved out a role in his upper class years as a sharp shooter, heady defender and a player with a high basketball IQ. The shooting guard averaged 5.9 points per game in his final eight games, including a career-high 14 points with four three-pointers in a victory against SUNY Potsdam.
Playing time was not readily available for the large, seven-man freshman class Leone brought in this season, but that will change next season, with five of the top nine minutes leaders graduating. In particular freshman guard Kyle Covley, who merited the fifth-most minutes on the team and averaged 7.0 points per game, will see plenty of action and is a probable starter next year.
Leone really enjoyed the way Covley played in the team's big games. The freshman scored 29 points in a critical conference game against SUNY New Paltz on Jan. 22, and also hit four three point shots and finished with 16 points in the first round of the SUNYAC tournament against The College at Brockport.
"Kyle has this innate quality that is perfect for those situations," Leone said. "He doesn't get rattled."
The Lakers are set to have only one senior next season, Daniel Ross, who just completed his first season with the team. He battled a hand injury during the middle of this season, but managed an impressive 8.0 points per game, 4.0 rebounds per game and 2.0 assists per game, while showcasing his stout defense on the perimeter, claiming 1.5 steals per game.
Leone has posted an impressive 45-12 record in his first two seasons at Oswego State, a winning percentage of 78.9 percent.