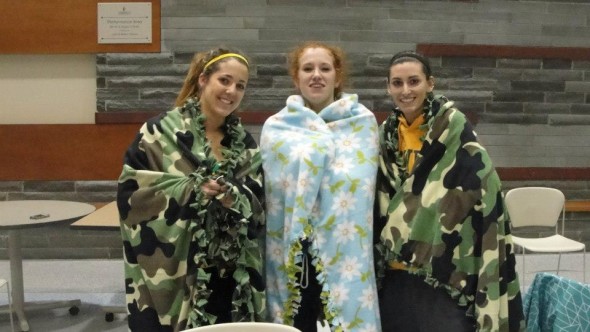 The spring semester of intramural sports is in full swing at Oswego State. With the volleyball and indoor soccer leagues in the middle of their seasons and the broomball and basketball tournaments are getting closer to crowning champions.
The intensity and competition is heating up all around.
In the indoor soccer leagues, there were several exciting games in each of the three divisions this week.
In the men's recreational division, YaDong Wang netted five goals for Pass the Nutmeg as they cruised past Goaldiggers by a final of 9-1. The win pushed Pass the Nutmeg to 2-0 on the season and the team followed up the win with a forfeit victory over Limp Noodles to move to 3-0 on the season.
The Incredibles also remained undefeated this season with a 16-1 pummeling of Banis and Friends Survey. With one game left to go in the season, The Incredibles remain one of the three remaining unbeaten teams in the men's recreational division.
In the co-rec competitive league, Back that Pass Up and Team Name each moved to 2-0 with dramatic victories that saw scores in double digits.
Back that Pass Up got past Kung Fu Pandas, 11-7, thanks to a dominant effort by John Mackie, who scored six of his team's 11 goals.
Team Name was able to hand Just Kickin' It its first loss of the season with a 10-8 win Thursday, Feb. 21. Bryan Pacchiana led the way with five goals for his squad.
Finally, in the co-rec recreational division of the indoor soccer league, Marcus Burry scored four goals to lead Team Swagger to a 7-3 win over Multiple Scoregasms to give Team Swagger it's first win of the season.
Meanwhile, a pair of Matthews led their teams to important victories. Matthew Kelly netted four goals for Bye Week in a 7-4 victory against Momma's Boys, while Matthew McDorman blasted five to help Brick Squad defeat Last Minute by a final of 7-3.
After several weeks of action in the men's broomball tournament, only three teams are still standing with a chance at the championship. Anne Frank's Army Tanks has advanced to the championship game this Tuesday after their 4-1 victory over Boom Goes the Dynamite on Tuesday.
On Wednesday, Feb. 20, the inaugural Crafty No Sew Fleece Blanket event was held in the Campus Center Food Court from 7-9 p.m.
The event was co-sponsored by Campus Recreation, Cut the Craft and Phi Beta Lambda and gave students the opportunity to create their own fleece blankets for free.
More than 30 students who attended were able to make blankets and finish their crafts in the allotted time. The assortment of blankets seemed to please all students that went, and overall a great time was had by all.
To read more about Campus Recreation special events, as well as feature stories on all things Campus Rec, subscribe to our Weekly Sports Report, and check it out at Oswego.edu/campusrec.