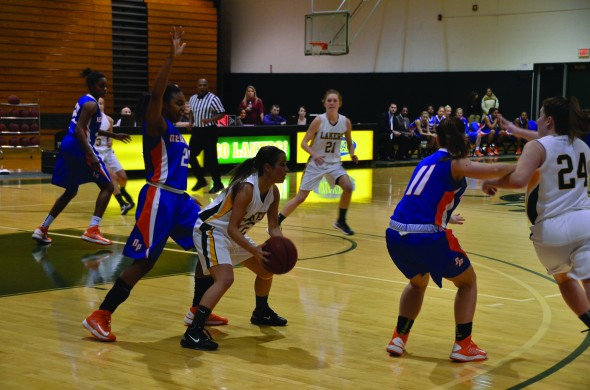 The 2012-2013 season came to an end for the Oswego State women's basketball team Friday with a 67-51 loss to SUNY Geneseo in the SUNYAC semifinals. With an overall record of 18-9 (11-7), this marked the first winning season for the Lakers in five years.
Their success can be accredited to their outstanding team defense, which put them at the top of the conference standings in scoring defense, field goal percentage defense and three-point field goal percentage defense. While the Lakers struggled at times on offense, finishing the season ranked sixth in the conference in scoring, they relied on their defensive effort to get wins in close games.
"I think our biggest strength was our defense and the way that we worked together so well," said senior Kari Kipper, who was named a Third Team All-SUNYAC player. "In a lot of instances, our defense saved the game for us because we were having trouble on offense."
When the Lakers did have success on offense, it was with their three-point shooting. As one of the smaller teams in the conference, they struggled to move the ball through the paint against bigger teams like Geneseo.
"We worked a lot in practice on getting the ball into the middle and then kicking it out for the open shot on the wing," Kipper said. "It was one of the things that really got us through this season."
With a number of good shooters who could knock down jumpers, Oswego State's offensive balance is what head coach Tracy Bruno believes allowed the team to finally come through in the SUNYAC tournament and advance as far as it did.
"The difference was that [junior] Lauren Nunziato and Kari Kipper both stepped up their offensive productions," Bruno said. "This year, teams had to prepare for scoring from several spots."
Despite the Lakers' early exit from the tournament, they are pleased with a season that was filled with memorable moments. Coming into this season, their record against SUNY Cortland was 3-44 all-time. They were able to come away with a victory in all three of their matchups against the Red Dragons this year. In addition, the Lakers were able to defeat Rochester 53-41 for the first time in program history in Max Ziel Gymnasium. Bruno says that some of her favorite moments from the season, however, came from off the court.
"I can tell you that some of my most proud moments are just the times that we got to share as a group, like bus trips and practices," Bruno said.
With five seniors now leaving the team, four of which were steadily in the starting lineup, Bruno has a tall task ahead of her to fill their spots on the roster. Now that they have gotten a taste of success and what it feels like, they understand how hard they have to work in order to achieve it.
"I am confident that with the players we return, the work I know they are going to put in this summer to improve their games and the kids we will bring new to the program next year, we will be ready for another exciting season," Bruno said.