Division III wrestling will, for the first time, decide who heads to its national tournament with a regional tournament, rather than a conference tournament.
The Oswego State wrestling team heads to Worcester Polytechnic Institute in Worcester, Mass. on Saturday. Individuals will have the chance to qualify for the 2013 NCAA Wrestling Division III Championships in Cedar Rapids, Iowa.
The 2012-2013 season for the Lakers was plagued with injuries and other medical issues leading to a second half struggle.
"We struggled the second half," Oswego State head coach Michael Howard said. "We faced adversity with injuries, some of those being season-ending."
The team lost senior and captain Kyle Sheridan early on due to injury, which left Jake DeBuyser, a freshman, to quickly fill the role. DeBuyser was in and out with a concussion and a skin disease. Howard expected DeBuyser to use the year as a transition time for the freshman to get used to wrestling at the collegiate level, but is happy with how he has filled the role.
"I'm very excited," DeBuyser said. "Nervous, but confident."
Along with DeBuyser, nine other members of the team will make the trip to WPI. According to Howard, Omar Santiago, Abubakarr Sow, Andrew Cole and Blake Fisher have all been pre-seeded within the top 10 of the New England Region.
Santiago, senior and second year captain for the Lakers, holds a 20-11 record for the season and 73-46 in his career at Oswego State. Santiago has been preparing himself for regionals with a positive attitude.
"Everyone has a chance to make it to nationals," Santiago said. "More than 50
percent can make it."
Santiago said he has been using yoga and extra workouts to help control his weight. Mentally, Santiago is nervous.
"This could potentially be the last time I ever wrestle," Santiago said. "[I'm] very confident that I'll make it to the next level."
Fisher has returned for his senior season to make a run for nationals. However, he initially returned for a different reason.
"I came back just to have fun," Fisher said. "I'm enjoying the sport again."
Wrestling is something the Seaford, N.Y. native knows is not easy.
"It's hard to say it's fun," Fisher said.
Fisher initially left the team during the winter session of his third season when he was a captain on the team.
"I was always that guy who said you never quit, you never stop," Fisher said. "When guys would quit I just didn't get it."
Fisher said that it was after he spent time with his old high school team and convinced a wrestler there not to quit he realized what he had to do.
"I couldn't waste this opportunity," Fisher said.
While Fisher may not be a captain anymore, he "leads by example" in the room. Fisher lives for the battles on the mat. His competitiveness in the practice room helps drive himself and his teammates.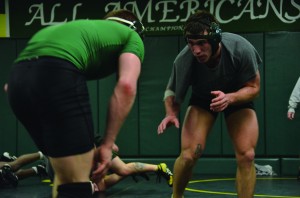 Fisher started the season out at 165 pounds and recently went down to 157 pounds.
"The push away from 165 came after some tough losses," Fisher said. "I certified 157 but I said I would never touch it."
After some push from Ian Clark, assistant wrestling coach, Fisher made the switch.
While going to regionals is serious business for the wrestlers, they find time to enjoy themselves.
"Andrew Cole has a crazy move, we call it the mouse trap," Fisher said. "It should only work in high school."
Fisher told Cole that he would never "hit it" in a live match and if he did he would reward him.
"He ended up getting four pins with it," Fisher said. "It's a friendly bet. Everyone is going through the same thing, the little things help."
Fisher is confident in his abilities for the tournament.
"I'm going to be top three," Fisher said. "I could be wrestling my last match ever."
The regional format comes after years of conference based national qualifiers.
"Conferences have been used for the last 50 years as far as I can remember," Howard said.
Howard said the tournament doubles the size of the competition and allows a straight forward process to lead up to nationals.
"There's no at-large bid or wildcard, it'll settle who's going to nationals this weekend," Howard said.
Eighteen teams, including the Lakers, will bring up to their top 10 wrestlers to compete for their ticket to nationals. As of the most recent rankings, five of those teams are nationally ranked within the top 30 (SUNY Cortland, Ithaca College, Wesleyan University, Springfield College and Johnson and Wales University).
The last Laker wrestler to qualify for nationals was Derek Smith in 2009. John Spinner was the last All-American in 2006.
Wrestling starts at 11 a.m. on Saturday and concludes with the championship bouts Sunday starting at 2:30 p.m. For those interested in attending, tickets are $5 for students and $10 for adults each day.