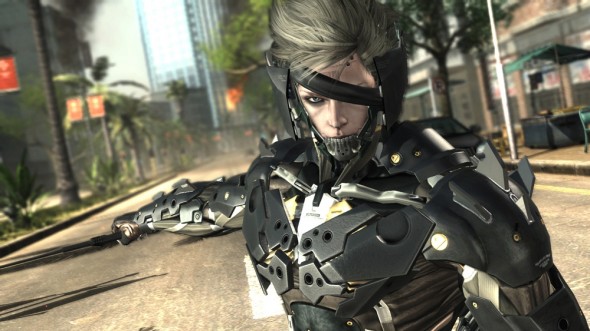 10. "Metal Gear Rising: Revengeance" (Feb. 19) – In 2010 when "Revengeance" was announced it was plagued with development problems. Once Kojima Productions handed off production to Platinum Games, the makers of "Bayonetta", this spinoff is looking stronger as its release date approaches. Throwing players into the cyborg boots of Raiden, first introduced in "Metal Gear Solid 2," it is up to Raiden to end a coup attempt in a small country being led by a private military company responsible for killing an African Prime Minister, who Raiden was hired to protect. With the unique, often zany, stories that Kojima Productions are known for and the fast, fluid action that Platinum Games is famous for, this is proving to be a game worth checking out.
9. "Injustice: Gods Among Us" (Apr. 16) – The tag line says it all: "What happens when our greatest heroes become our greatest threat?" From NetherRealm Studios, the makers of Mortal Kombat, this fighting game stars the characters of DC Comics, battling in famous DC locations like Metropolis or the Batcave. NetherRealm offers a slew of characters ranging from Superman to Deathstroke, with controls similar to the 2011 reboot of Mortal Kombat. While this may be the sole fighting game on this list, it is the one worth watching the most.
8. "StarCraft 2: Heart of the Swarm" (Mar. 12) – The first expansion to "StarCraft 2: Wings of Liberty," sets players in the role of commanding the Zerg Swarm after its leader, Sarah Kerrigan, is made human again. She must now regain control of the Swarm as she continues her quest for vengeance against those responsible for her fate as an infested human. With new units, an expanded multiplayer, and a new single-player story, this first expansion is shaping up to be another hit for Blizzard Entertainment.
7. "Gears of War: Judgment" (Mar. 19) – Set before the original game, "Gears of War: Judgment" turns its, focus from Marcus Fenix to Baird when he led his own squad during the early Locust Invasion. This prequel expands on the single-player with optional objectives that provide up to 100 percent completion along with randomized enemy generation. That, on top of new multiplayer modes, is making this game look better than its predecessors as Emergence Day approaches.
6. "God of War: Ascension" (Mar. 12) – Before he was the God of War, Kratos was just a man. This prequel, set 10 years before the original, "God of War: Ascension" sees Kratos making his first attempt to break away from his master Ares after being tricked into killing his wife and daughter. This leads Kratos into conflict with the Furies, the vain of oath-breakers in Ancient Greece, in his quest for revenge against Ares. The new multiplayer mode also gives an interesting new twist to the series, as players now fight to protect the world of man while honoring their chosen god. Kratos' journey for blood and vengeance shall begin anew.
5. "Tomb Raider" (Mar. 5) – Now in the hands of Crystal Dynamics, this prequel/reboot of the popular "Tomb Raider" franchise sees a young Lara Croft embarking on her first adventure right out of college. After she gets shipwrecked on an island in the Pacific Ocean, it is left to Lara to rescue the crew of the ship and defeat the malevolent force occupying the island. With a more open design based around the island and a darker, grittier Lara, the newest entry in the long-running series may give new life to the quiet tombs Lara shall explore.
4. "Tom Clancy's Splinter Cell: Blacklist" (Aug. 20) – Sam Fisher is back to save the free world in the sixth entry in the "Splinter Cell" series. After the events of "Splinter Cell: Conviction," Sam has been made head of Fourth Echelon, the new covert branch of the U.S. government, replacing Sam's former employer, Third Echelon. Sam is then ordered to find and stop those behind the Blacklist, an escalating list of terror activated against the U.S. and its allies. This new entry in the series looks to strike a balance between action and stealth, with players being able to customize Sam to their play-style, along with modes that hearken back to the original "Splinter Cell." One can only hope as the game slowly approaches its summer release.
3. "The Last of Us" (May 7) – The only new property on this list also looks to be one of the most unique experiences on PlayStation 3 this year. "The Last of Us" follows a black-marketeer named Joel, who has been tasked with protecting a young girl, Ellie, as they travel across a post-apocalyptic U.S. ravaged by a fungal virus. Along their journey, the pair will have to contend with a vicious U.S. military trying to bring both back to the quarantine zones set up to halt the virus. They will be forced to face survivors living in the overgrown cities who see Joel and Ellie as their newest prey, and the deadly, zombie-like infected who only exist to spread the virus. Joel and Ellie fight to survive their journey when "The Last of Us" launches this spring, and is undoubtedly one of the most anticipated games of the year.
2. "Bioshock Infinite" (Mar. 26) – Transporting players to the flying city of Columbia, "Bioshock Infinite" follows former Pinkerton agent, Booker Dewitt, as he is tasked to bring back a girl, Elizabeth, from the city. However, his arrival and mission will ultimately begin the fall of Columbia, with the warring factions in the city all trying to get Elizabeth because of her unique powers. While this may not be linked directly to the original "Bioshock" released in 2007, this follow up from Irrational Games is looking to be the first major release this year that seems to be a contender for a Game of the Year nomination.
1."Grand Theft Auto V" (Sept. 17) – What else could be number one on this year's list? Rockstar's latest entry into the "Grand Theft Auto" series goes back out west to the L.A. inspired Los Santos. This time giving players three different characters to switch between, a local gun and drug runner, a former robber in witness protection and a "repo" man who seems to target only high-end cars. The choice of characters is complimented by a game world that Rockstar has said is the biggest open world they have ever created. While the September release date may be a bit far off, this is a game that will be well worth the wait.