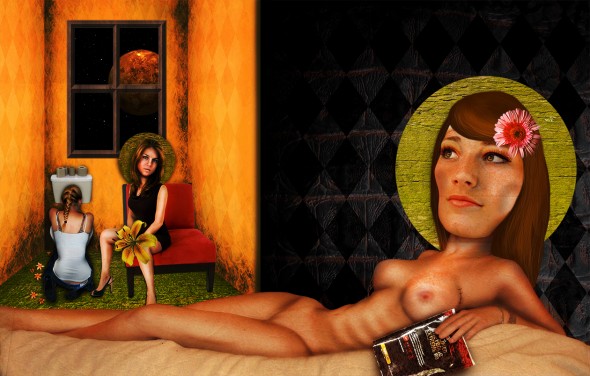 This year is the Tyler Art Gallery's fiftieth anniversary, making this spring a momentous occasion for art. Six outside judges were brought in to assess the student work. Some judges are professional studio artists, while others work in graphic design. This semester, each student was able to submit up to three pieces of work. Out of these three pieces, at least one would be chosen for the gallery. Any student can submit a piece, whether they are an art major or not.
Votes from faculty were cast and tallied to decide which pieces would go into the show. Awards were given to students for outstanding artwork like the People's Choice Award and the Al Bremmer Art Award. Al Bremmer was the former chair of the art department at Oswego State and was employed in the art department for over 40 years. He also was the director of the gallery, and to show his dedication to art at Oswego State, he comes to the gallery every spring to award students for excellent artwork. Students get 50 dollars and recognition for their creative pieces. Some student work is available for purchase, depending on the artist's willingness to sell.
One modern piece of art that caught my attention was an outstanding piece done by Kristen Tryon, a senior graphic design major. The piece is called "Venus of Urbino Moderno," and was computer generated. The inspiration for the modern piece comes from a classical work from 1538 called "Venus of Urbino" by an Italian oil painter called Titian. The original piece was very risqué for the time, as the piece depicts a woman lying naked in an erotic pose on a couch. Tryon mimicked the picture with a modern twist by showing an emaciated woman with breast implants lying in a similar pose.
"I wanted to contemporize the piece and show what women deal with now," Tryon said.
The piece deals with bulimia, which was expressed through an image of a girl with her head in the toilet in the left corner. The main character of the image is holding a diet powder that is available in grocery stores. This product is available to anyone, and Tryon is pointing out that teen girls can too easily get their hands on this substance. Another image Tryon pointed out was the image of a woman sitting with her legs slightly parted, and a flower covering her groin. This is a message to women that they should protect and cherish their body and that women do not need to alter their bodies.
In the window, however, Venus is burning bright. The main subject in the image is gazing at Venus, because Tryon says "there is hope for women if we go back to the roots and embrace the strength we have. Venus represents power."
Tryon accomplished this piece in her digital illustration class with Cynthia Clabough, the chair of the art department. Tryon submitted a sister piece that was not put into the art show. That piece depicts a young woman in a room full of bottles of alcohol. The woman in the image is being surveyed by cameras.
"The cameras are my way of showing how you're constantly being watched," Tryon said.
According to her, reality television is putting a bad image of women and it is up to the women to show what needs to be changed. Tryon uses Photoshop and photographs of different textures she sees in her everyday life to comprise her pieces of artwork. Each piece of work is comprised of over 100 layers of graphics, and can take about two weeks.
The gallery was filled with many different types of mediums; some oil and acrylic paintings, furniture designs, some digital media, photography, charcoal on paper, ceramics and sculptures. Mark Zbikowski, a senior and fine arts major, has two pieces in the show, one a wall-sized self portrait using charcoal on paper and one oil on canvas painting called "The Idea of Expansion," which is beautifully colored and patterned. Zbikowski said he listens to dubstep music for inspiration. He said that the orange and yellow patterns are supposed to lose the viewer, and give the effect of expansion, showing Zbikowski's idea that all ideas are uninterrupted in the right state of mind.
Carrie Gregg, a master's of art candidate, did a Porcelain sculpture of a torso called "Fasten," which displays the anatomy of a human body including the organs inside. Gregg said that she created her piece hoping to show that what we see on the outside may not reflect our psyche. She said we are all internally different. Gregg also did a beautiful acrylic on vinyl called "Obstruction," which shows a cityscape detailed with exaggerated shades of blue and some crimson highlighting a sun over other buildings off in the distance.
Consequently, the student art gallery in Tyler Hall is full of inventive, creative and fresh pieces of art. The pieces in the gallery are all different types of media and range from intense and emotional to lighthearted and sweet. All of the artists who have submitted work in the gallery have done an excellent job at conveying their intensions and making fantastic pieces of modern art.