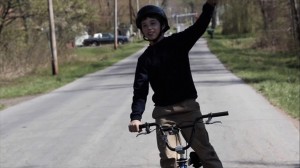 Oswego State graduate Mark Martino has a piece of advice for students: "If you ever wake up in the middle of the night and are moved by something, write it down." Martino who is premiering his movie, "Merciless Playground," Sept. 14, admits that he dreamt the key parts of his story. "My subconscious is usually where I draw from," Martino said.
A product of CSS 395 (Location Filmmaking) and written and directed by Martino, "Merciless Playground," tells the story of Jack (Terence O'Kane), a quadriplegic mute who is introduced to Dr. Fred, who has allegedly found a cure to his condition. Because it was created for CSS 395, "Merciless Playground" is the collaboration of many students and faculty of the Cinema and Screen Studies Department. "Everybody came through," said Martino, who faced the challenge of scheduling 22 cast and crew members for what turned out to be approximately 12 shooting days.
May 9 was the deadline for the class, but due to problems in the editing lab, only a rough copy was shown on May 10. After a few more weeks of editing, the final copy was finished in June. " I knew I needed Jeffrey for his artistic vision," said Martino of cinematographer and classmate Jeffrey Newell. During the summer weeks the task of adjusting the audio was given to another classmate, Matthew Ansini. "He did a great job. He took it and smoothed it out to what it needed to be to match the visuals," Martino said. "Merciless Playground" was also edited by Terrence O'Kane, produced by professor Joshua Hunter Adams and even featured the daughter of the director of the cinema and screen studies department, Amy Shore.
"The big thing was that we did not settle," Martino said, "We did not settle for the same actors or locations that did not represent the film." As a cinema graduate, Martino explained that one of the challenges of being in the major is the lack of actors and locations. Most student films feature the same students in their dorms or dining halls.
Martino ended up not sleeping for 56 hours during the early stages of editing, and described the film making process as harder than boot camp. "Taking the script from in my head to reality was a huge task" Martino said. "Merciless Playground" has been submitted to 11 film festivals, ranging from SUNY-wide festivals to Sundance, and while Martino expects it to be difficult for the movie to be chosen, he does believe that the story is strong enough.
Martino is currently "creatively exhausted" and torn between applying for big production companies or starting his own. In the meantime, he is sure that he will get more positive feedback on "Merciless Playground."
"It if is a good movie, all the girls will cry, if it's a great movie, boys will cry," said Martino. "Merciless Playground" will premiere at the Campus Center Auditorium, Sept. 14, 8 p.m.