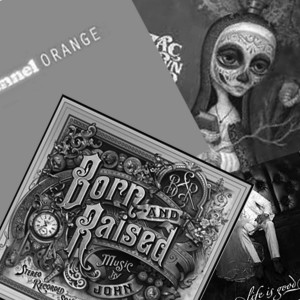 This summer was not filled with many major releases, but that does not mean this summer lacked amazing albums.
One of the earliest releases of the summer was John Mayer's "Born & Raised." John Mayer took a two-year hiatus from music due to vocal chord surgery before this album and he returned with an album that holds to his standards. This album showcases Mayer's strong points as his past albums have, but in a new way. Mayer leaves his easy rock style behind in this album, and uses a simple but well-done folk style. Mayer's songwriting shines in this folk element, which shows even more growth in his already well-celebrated style. Some album standouts include "Queen of California," "The Age of Worry" and "Walt Grace's Submarine Test, January 1967." This album was not just a critical success; it debuted at No. 1 on the Billboard 200 for two straight weeks, a first for Mayer.
"Life is Good," Nas's 13th album could be considered his most anticipated album since "Illmatic." Though it has been four years since his own solo release, Nas picks up where he left off with thought-provoking rhymes and stories. Though he is twice the age he was for his first release, Nas channels that original style and adds experience that he could not claim in the past. One of the strongest points of this album is the wide array of subject matter from the troubles of raising a teenage daughter, to the life of a man who is outgrown the streets he was born and raised in. This album is a success in its entirety. Some album standouts include, "Daughters," "No Introduction" and "Locomotive." Nas succeeds in making an album that will make his fans happy.
In contrast to the veteran artist albums, Frank Ocean appears on this list for his debut album "Channel Orange." Frank Ocean's success with his mix tape "Nostalgia/Ultra" was not only followed up by "Channel Orange" but was eclipsed by it. Ocean could not have done any better for a debut album. Channel Orange displays Ocean's strong songwriting, which he has done for the likes of Beyonce, Justin Bieber and John Legend. The album explores themes of love, drug use, wealth and youth. Ocean's versatility can be seen through out the entire album with songs that vary in speed, structure and subject. Ocean also takes many by surprise with the album only featuring two outside artists, John Mayer and Andre 3000. The standouts of the album include "Thinkin Bout You," "Pyramids," "Bad Religion" and "Pink Matter."
Zac Brown Band continues to push its success with the release of its newest album "Uncaged." This is a fun album which displays the band's many sides such as their country roots, the pop sounds that appeal to new fans and old and also their reggae jam style, which they perfect. With tracks like "Jump Right In" the album is proof that a country band can appeal to more than just the average country fan.