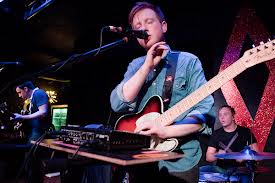 The Northern Irish trio Two Door Cinema Club has returned with their newest album "Beacon." It is a more polished and mature sounding album than their 2010 debut album "Tourist History."
Band members Alex Trimble, Kevin Baird and Sam Halliday made sure that every track on that debut was packed to the brim with nervous, spastic and adolescent energy. Tracks like "Undercover Martyn," "What You Know," and "Something Good Can Work" are loaded with energy that make them each a great track. It was that flashy, youthful quality that earned Haley a spot on stage covering Underworld's "Caliban's Dream" at this past summer's opening ceremonies at the London Olympic Games.
Gone now are the sugary, simplistic tunes with earworm guitar riffs. They have been replaced with melancholy lyrics about the band touring the world and ethereal harmonies and ensembles harkening back to The Beatles and The Beach Boys. If "Tourist History" was the band's summer, then "Beacon" is surely its autumn. A highlight of the album was Haley and company experimenting with a much harder sound than expected with tracks like "Wake Up" and "Someday" that are reminiscent of their peers Bloc Party and The Arctic Monkeys. Producer Garret "Jacknife" Lee, notable for working with Weezer and U2, gives a presence that can be felt on "Sleep Alone" and "Spring," two tracks filled with jangly guitar licks that cascade down on its listeners.
On the whole, "Beacon" is more subdued and intimate than their previous fare. "Settle" and the title track "Beacon" stand out as the gems of the album. The album exudes a kind of maturity and polished quality that was lacking from their last album, with their much slower and methodical pacing of their music.
"Beacon" might not be as immediately satisfying to listen to like "Tourist History" was, but it is an album that takes its time with you, and you have do the same with it.