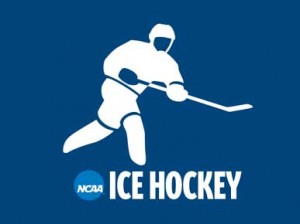 One day after a heart-breaking 3-2 loss to SUNY Plattsburgh in the SUNYAC Finals, the Oswego State men's ice hockey team earned one of three at-large bids into the 2012 NCAA Tournament. The Lakers received a first-round bye into the NCAA Quarterfinals and will host Elmira College, another at-large team, on Saturday, March 10, at 7 p.m. in the Campus Center Ice Arena. Oswego State swept a home-and-home series against the Soaring Eagles to begin the season back in October. The Lakers defeated Elmira, 7-3, at Elmira before completing the sweep, 6-2, at Oswego State. Elmira makes the tournament with a 15-8-3 record. The Lakers are 22-3-2.
St. Thomas out of the west region received the third and final at-large spot, much to the dismay of Adrian and Castleton fans, and will travel to play last year's national runner-up, St. Norbert, in the opening round of the NCAA Tournament on Wednesday, March 7, at 8 p.m. St. Norbert received an automatic bid for winning the NCHA Tournament.
The other two opening round games feature four automatic qualifiers. A pair of newcomers face off, as Plymouth State takes on Wentworth. Plymouth State defeated Salem State in double overtime to claim the MASCAC Tournament, while Wentworth defeated Curry in overtime on a penalty shot to win the ECAC Northeast Tournament. The winner of that game will travel to face the top-seeded Norwich Cadets, winner of the ECAC East Tournament.
The final opening round game is a match up between two west region teams, as Gustavus Adolphus plays Milwaukee School of Engineering. Gustavus Adolphus defeated St. Olaf in the MIAC Tournament and Milwaukee School of Engineering defeated Adrian in the MCHA Tournament. The winner of this game will play the winner of the St. Norbert/St. Thomas game in the quarterfinals.
The final game on the schedule takes place on Oswego State's side of the bracket, with Plattsburgh traveling to play Amherst in the NCAA Quarterfinal. Plattsburgh claimed its 21st SUNYAC title on Saturday night, while Amherst edged out Middlebury for the NESCAC title.
Oswego State and Plattsburgh could potentially meet in the NCAA Semifinal at Lake Placid if both teams were to win its respective quarterfinal round game.