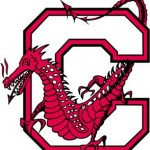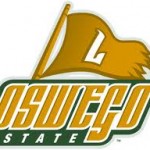 It has been since Dec. 3 that the Oswego State men's ice hockey team has played a conference game. After defeating SUNY Potsdam, 6-4, at Maxcy Hall, the Lakers have played five straight non-conference games, compiling a 4-1-0 record during that stretch. The Lakers appear to have recovered from a shutout loss at the hands of Neumann University in the Pathfinder Bank Oswego Hockey Classic Championship, defeating Curry College and Utica College this past weekend.
First up for the Lakers in the second half of conference play is SUNY Cortland, who currently sits tied with The College at Brockport for seventh place in the nine-team SUNYAC with a 2-5-1 conference record and a 4-11-1 overall record. The Red Dragons are two points out of the sixth and final playoff spot, which is currently held by SUNY Fredonia. Cortland's two wins in conference have come against Brockport and last-place Morrisville in overtime.
The last time Oswego State and Cortland met back on Oct. 28 at Alumni Arena, the Lakers exploded for five goals in the second period en route to a 6-0 victory in the conference opener for both teams. Junior forward Paul Rodrigues and senior forward Ian Boots recorded two goals a piece and junior goaltender Andrew Hare recorded 19 saves for his first career shutout in a Laker uniform. The Lakers finished 5-for-11 on the power play.
Despite a 62-8-1 all-time record against the Red Dragons, head coach Ed Gosek has said that Cortland is a very physical team that plays hard and finishes its checks. Although Cortland finds itself near the bottom of the SUNYAC, the Lakers cannot afford to overlook the Red Dragons, especially with SUNY Plattsburgh just one point behind Oswego State for the conference lead.
The Red Dragons will come into the Campus Center Ice Arena well-rested, having not played since Jan. 7. However, Cortland has struggled as of late, going 1-9-1 in its last 11 games. The Red Dragons are 1-7-1 on the road with the only win coming against New England College. Cortland has yet to lead after the first period this season and has yet to outshoot an opponent.
Cortland has been outscored in every period except overtime by at least 10 goals. The second period has been their most successful period in terms of scoring, totaling 21 goals. The Red Dragons have scored a combined 19 goals in the first and third periods. On the defensive end, the Red Dragons have allowed 81 goals this season and 5.06 goals per game.
In terms of special teams, Cortland's power play unit has a success rate of 15.2 percent (12-for-79) and its penalty killing unit has a success rate of 75.5 percent (71-for-94). Statistically, the Red Dragons are best in one-goal games, sporting a 3-2 record.
The Red Dragons are led by junior forward Adam Bevilacqua with 15 points on four goals and 11 assists. Senior forward Joey Christiano is the team's leading goal scorer with eight goals, four of which have been on the power play and one shorthanded. Bevilacqua and Christiano are the only two players on the team with double-digit points.
Cortland has three goaltenders who have each played in six games this season. Senior Mike Reilly has recorded three of the team's four wins with a 4.78 goals against average and a .865 save percentage. Junior Brittan Kuhlman has allowed 4.97 goals per game, but has a team-best .875 save percentage. Freshman Jeff Molner has the other win, but has the highest goals against average with 5.08.
On paper, the Lakers are the clear favorites. The roster boasts nine players with at least 10 points, led by junior forward and assistant captain Jon Whitelaw, who has 21 points on nine goals and 12 assists. Rodrigues is second on the team with 20 points on five goals and a team-high 15 assists.
Junior goaltender Andrew Hare picked up his 10th victory of the season on Saturday against Utica and sports a 1.89 goals against average and a .925 save percentage. The Lakers are 7-1-1 when playing at the Campus Center Ice Arena and are 12-1-1 when outshooting opponents, which they most likely will do against Cortland. Oswego State has not lost a game when leading after the first or second period or being tied after two periods this season.
The Lakers and Red Dragons meet on Friday, Jan. 20, at the Campus Center Ice Arena.