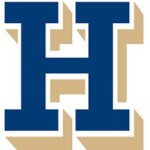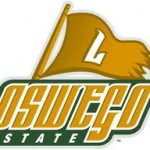 The first time the Oswego State women's ice hockey team played against Hamilton College it was the Lakers who came from behind in the third period and eventually go on to win it in overtime on sophomore forward Carly Henderson's game-winning goal. On Tuesday night the Continentals scored twice in the third period, including Nikki Haskins' game winner at 16:43 en route to a 3-2 victory at the Campus Center Ice Arena.
The Lakers (7-6-2 overall, 6-2-2 ECAC West) jumped out to an early 2-0 lead before Hamilton battled back with three unanswered goals to salvage a series split between the two teams, each winning on each other's home ice.
Oswego State scored twice in a span of 26 seconds in the first period on goals by senior forward Kelly Collins and freshman forward Carly Marchment. Collin's goal came at 5:14 of the first period and Marchment's goal came at 5:40. Sophomore forward Mady Paul and senior forward Leah McNaughton earned assists on Collin's goal, while senior defender Kathryn Sbrocchi was credited with the assist on Marchment's goal. Both goals were scored at even strength.
Hamilton (6-6-0 overall, 3-3-0 NESCAC) cut the Laker lead in half with 40 seconds remaining in the first period on an unassisted goal by Stephanie Lang. Lang's goal was one of just two shots recorded on net in the first period for the Continentals. The Lakers outshot Hamilton 9-2 in the period.
After a scoreless second period, Hamilton took advantage of a two-skater advantage to tie the game at two. Following a body-checking penalty by freshman forward Chelsey Draker and an interference penalty by freshman defender Emily Marks, Hamilton's Riley Smith received a pass from Meredith Bitterman and beat Oswego State sophomore goaltender Catherine Cote for the goal.
Haskins added the game winner roughly five minutes later. The Continentals called a timeout 26 seconds prior to the goal to set up the game-winning play.
Hamilton was held to just seven shots in the first two periods combined before recording 10 shots in the deciding third period. The Lakers finished with eight in the third period and outshot the Continentals, 27-17, for the game.
The Lakers finished 0-for-3 with the extra skater and Hamilton finished 1-for-6.
Cote finished with 14 saves for the Lakers. Hamilton starter Becca Hazlett played the first two periods, recording 11 saves before being replaced by Sarah Schuchardt to start the third period. Schuchardt finished with 14 saves to earn the victory.
The Lakers return to action on Saturday, Jan. 21, when they play host to archrival and ECAC West foe SUNY Plattsburgh at the Campus Center Ice Arena for a two-game series.