When top-ranked and previously unbeaten Norwich University lost to Massachusetts-Boston, a 6-5-2 overall team, on the road, 2-1, it looked as if the Oswego State men's ice hockey team may become the nation's No. 1 team come Monday afternoon. But the Cadets' stranglehold on the top spot over the past month was enough to keep them a top the USCHO.com Men's Ice Hockey poll rankings for at least another week. Norwich received 293 total votes, but lost seven first place votes, receiving 13 first place votes in this week's poll. The Cadets currently sport an 11-1-1 overall record. They do not play a ranked team until Feb. 11, then the Cadets travel to play Castleton.
The Lakers gained ground on Norwich, but continues to look up at the Cadets in the rankings. Oswego State remained No. 2 for another week despite defeating Curry College on Friday and Utica College on Saturday at the Campus Center Ice Arena. The Lakers held their No. 2 ranking last week after being shutout by Neumann University in the championship game of the Pathfinder Bank Oswego Hockey Classic. Unlike last week, Oswego State received six first place votes and a total of 284 points, nine points behind Norwich. The Lakers return to SUNYAC play briefly against SUNY Cortland before playing one final non-conference game against Hamilton.
Perhaps the hottest team in Division III hockey at the moment is SUNY Plattsburgh, who received one first place vote and held its No. 3 ranking. The Cardinals shutout Middlebury, 7-0, on Friday before tying 10th-ranked Williams on Saturday. So far this season, Plattsburgh is 2-1-3 against teams currently ranked in the top 15 with one more game (@ Oswego State) remaining against a top-15 team. Wisconsin-River Falls and Castleton remained in its respective spots from a week ago at No. 4 and No. 5. Wisconsin-River Falls split a weekend series with Wisconsin-Stout and Castleton had the weekend off.
Amherst and Neumann flip-flopped positions, as the Jeffs come in at No. 6 and the Knights at No. 7. Amherst won road games against Tufts and Connecticut College, while Neumann saw its eight-game winning streak come to an end in overtime at SUNY Fredonia. The Knights defeated Fredonia the night before. A week after sharing the No. 8 position last week, St. Norbert took full control over the No. 8 spot and Adrian fell to No. 9. Both teams won their respective series over the weekend with conference opponents. Williams College moved up one spot to No. 10 after tying third-ranked Plattsburgh.
Elmira College has won four straight game and moved up two spots to No. 11. The Soaring Eagles swept Morrisville over the weekend. St. Thomas also moved up two spots to No. 12 after defeating Hamline in a home-and-home series. Utica dropped two spots and shares the No. 12 ranking with St. Thomas. The Pioneers lost on the road at Oswego State, 5-2, on Saturday. Milwaukee School of Engineering fell to No. 14 and Gustavus Adolphus remained at No. 15 to round out the top 15.
Other teams receiving votes were Bowdoin, St. Scholastica, Wisconsin-Eau Claire, Marian, Wentworth, Wisconsin-Stout, Wisconsin-Superior, Johnson and Wales, Middlebury and New England College.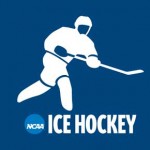 USCHO.com Men's Poll 1/16/12
1. Norwich (13)
2. Oswego State (6)
3. Plattsburgh (1)
4. Wisconsin-River Falls
5. Castleton
6. Amherst
7. Neumann
8. St. Norbert
9. Adrian
10. Williams
11. Elmira
12. St. Thomas
12. Utica
14. Milwaukee School of Engineering
15. Gustavus Adolphus