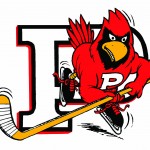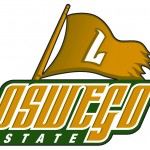 Friday night at the Ronald B. Stafford Ice Arena will mark the 102nd installment of the Oswego State/Plattsburgh men's ice hockey rivalry. The Cardinals lead the all-time series, 67-31-3, but it has been the Lakers who have had the upper hand on SUNY Plattsburgh over the last two years, winning five straight contests, including a 6-3 victory in the 2010 SUNYAC Championship.
The Lakers come into Friday's contest leading the SUNYAC with 11 points, one point in front of the Cardinals. Oswego State sits at 7-1-1 overall and 5-0-1 in SUNYAC play, with the only conference blemish coming in a 3-3 tie against Morrisville State College at the Campus Center Ice Arena on Nov. 12. Plattsburgh has compiled a 5-2-1 overall record and a 5-1-0 SUNYAC record, losing at Buffalo State on Nov. 12. The Cardinals have not lost a game at home so far this season.
Both teams have a rich winning tradition. The Lakers have one national championship under head coach Ed Gosek in 2007. In program history, Oswego State has compiled eight SUNYAC titles, participated in 12 NCAA Tournaments, been to the Frozen Four five times, had eight First Team All-Americans and 12 Second Team All-Americans. The Cardinals have won two national championships under head coach Bob Emery in 1992 and 2001. Plattsburgh has won a league-best 20 SUNYAC championships.
Oswego State and Plattsburgh are similar in almost every statistical categories during conference play. The Lakers have scored an average of 4.83 goals per game in SUNYAC play, second behind only Buffalo State's five goals per game. Plattsburgh sits in third in team offense with 4.67 goals per game. The Lakers also have a slight advantage over the Cardinals in team defense during conference play, holding teams to a conference-best 1.67 goals per game. Plattsburgh's 2.17 goals allowed per game is second-best in SUNYAC play this season.
The Cardinals and Lakers special teams are near identical on both the power play and the penalty kill. Plattsburgh holds the slight edge in power play efficiency at 25.6 percent, third best in the conference. Oswego State comes in right behind them at 24.4 percent effectiveness on the power play, fourth best in the conference. Plattsburgh also tops the Lakers in the penalty kill category. The Cardinals have allowed just two power-play goals this season, killing a conference-best 91.3 percent of opponents' power plays. Plattsburgh's 92.9 percent penalty killing unit is fourth in Division III. The Lakers have allowed four power-play goals, killing 87.5 of opponents' power plays.
Perhaps the most important category, discipline, heavily favors the Cardinals. Plattsburgh has taken a conference-low 9.83 penalty minutes per game. The Lakers average 17.17 penalty minutes per game.
Junior forwards Paul Rodrigues and Jon Whitelaw come into the game as the leading scorers among the two rosters with 14 points. Rodrigues has a team-high five goals and nine assists, while Whitelaw has tallied four goals and a team-high 10 assists. Rodrigues also has a team-leading three power-play goals this season. Rodrigues is third in SUNYAC scoring with 11 points on five goals and six assists. Whitelaw and senior forward Ian Boots are fifth in SUNYAC scoring with nine points, each with three goals and six assists.
The Cardinals are led by junior defenseman Mike Grace, who has eight points on eight assists. Grace's eight assists is second most in SUNYAC. Senior forward Kyle Kudroch is second on the team in scoring with seven points on four goals and three assists.
Both teams have depth at the goaltending position, as the Lakers and Cardinals have two capable starters in net. Oswego State appears to have given junior goaltender Andrew Hare the starting role with Paul Beckwith sidelined with a knee injury. Hare has played in eight games, compiling a 6-1-1 record on a 1.94 goals against average and a .923 save percentage. Hare leads the SUNYAC with a 1.77 goals against average. Backup goaltender Dan Jones has played in one game this season, a 7-1 victory over The College at Brockport.
The Cardinals have two goalies worthy of the starting job, and have been splitting time all season. Sophomore transfer Mathieu Cadieux has played in five games, sporting a 3-2-0 record on a 1.85 goals against average and a .930 save percentage. Cadieux has played in four SUNYAC contests, leading the conference with a .938 save percentage. His 1.78 goals against average in conference is second best. Junior goaltender Josh Leis has played in four games, going 2-0-1 with a 2.00 goals against average and a .915 save percentage. If the Primelink Tournament that the Cardinals competed in over the holiday weekend is any indication of who may be starting against the Lakers on Friday, all signs point to Cadieux getting the start, as he starting against top-ranked Norwich University. Leis played in the consolation game against Middlebury. Leis has struggled in recent starts against the Lakers and Ryan Williams, who has since left the program, started the last time the two teams met.
Plattsburgh comes limping into the match up with the Lakers, after failing to score a goal in two games during the Primelink Tournament, arguably the toughest tournament in Division III hockey. This year's participants included Plattsburgh, top-ranked Norwich, seventh-ranked Elmira College and 11th-ranked Middlebury. The Cardinals lost 3-0 against Norwich in the opening round of the tournament before playing to a scoreless tie against Middlebury in the consolation match.
The Lakers have enjoyed a week off after hard-fought victories over conference foes SUNY Fredonia and Buffalo State. The six-hour bus ride to Plattsburgh may not help to get their legs under them, but as Whitelaw put it, "if you can't get up for this game then I don't know what game you could get up for." The key for the Lakers will be to stay out of the penalty box and capitalize on the limited number of power play opportunities they will have during the game. They will have to weather the storm during the first few minutes with the intensity of the crowd, which will be a sellout like every other time these two teams meet.
The Lakers and Cardinals meet on Friday, Dec. 2 at 7 p.m. at the Ronald B. Stafford Ice Arena in Plattsburgh, N.Y. If the Lakers can muster out a huge road win, they will put some distance between them and the rest of the conference in the standings. But if Plattsburgh reigns supreme in the game, they will take over as the SUNYAC leader. Live stats will be available on both athletic websites and fans can listen to the game on WNYO 88.9 FM.