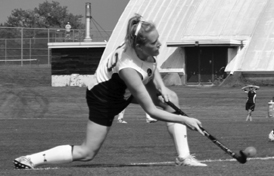 Kelly Collins, a senior and three-sport star here at Oswego State, has put her heart into sports ever since she stepped on campus. She stays busy year round, playing field hockey, ice hockey and lacrosse, but she plays with a great passion for all three.
"I enjoy all three sports and I wouldn't change playing all three of them for anything," Collins said. "I have been playing field hockey, ice hockey and lacrosse since freshman year. I played ice hockey since I was five years old and field hockey since I was 12 years old. Lacrosse is something I picked up when I got to college."
Being so involved in sports has left her with a very tight schedule, but Kelly knows how important it is to stay involved in her school work.
"In being a three-sport athlete I have to always manage my time and stay organized. It is important to stay on top of my academics in order to compete in each sport," Collins said. "I am able to get through the tough times because of the great teammates I have and the support I have from both of my coaches."
So far the field hockey season has been one of those tough times, with the Lakers starting out the season 2-7, following a 3-2 Overtime loss to Houghton on Saturday. Collins is still remaining positive about the rest of the season.
"Our team is not doing as well as we had hoped but we are working through the little things and I feel we will be seeing some wins in our near future," she said. "We have two big SUNYAC games this weekend and I am confident in my team that after a good full week of practice we will be ready to go come this Friday."
Collins leads the Lakers with three goals this season. She also leads the team in shots on goal with 34 and is one of four players to start in all nine games.
Through good and bad times, Kelly has always had one person who she could look to on and off the field: her sister, Courtney, who is a freshman at Oswego State this year.
"My sister is my best friend and being on the same field hockey team as her is awesome," Courtney Collins said. "We have always talked about playing together and we finally have the chance, and it has really worked out well."
Courtney doesn't play three sports like her sister, but she does play field hockey for the Lakers. Kelly views them playing on the same team as an advantage.
"We find each other on the field easily and it feels like I have been playing with her for my whole college career," she said. "We have a sister connection."
Courtney's feelings toward playing with her sister also reflect the close bond they share.
"It is amazing playing with my sister," Courtney Collins said. "I have always looked up to her as a player and I always wanted to have the chance to play on the same team, so when I saw the chance at Oswego there was no way I was going to go anywhere else."
Also much like Kelly, Courtney is ready to help the Lakers finish the season strong after a shaky start.
"The field hockey season could be going a little better, but I feel like this is our time to step up," she said. "We got all of our losses out of the way and so now all we can do is play as the team we are and finish the season with all wins."