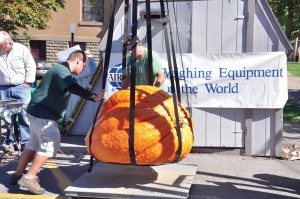 The Great Pumpkin is coming to Oswego, Charlie Brown!
More than 30 giant pumpkins are expected to weigh-in this weekend at the Great CNY Pumpkin Festival in Washington Square Park in Oswego.
The giant pumpkins can weigh well over 1,000 pounds and are king at the annual festival.
The object for pumpkin growers is to cultivate the heaviest produce possible. The pumpkin weigh-in, which requires a forklift to move the massive vegetables, will begin Saturday at 10 a.m. The pumpkins will only be on display Saturday.
"No matter what age you are, I think you're amazed at exactly how big a 1,000 pound pumpkin looks like," Beth Hilton said. "You see them on TV… but you really don't get it until you see them in person."
Hilton is the executive director of the Greater Oswego-Fulton Chamber of Commerce, which sponsors the festival.
The Oswego pumpkin festival is one of about 70 official weigh-off sites for the Great Pumpkin Commonwealth, the major organizer and sanctioning body overseeing giant pumpkin- and vegetable-growing competitions.
The weight of giant pumpkins has soared in recent decades. In 2009, a pumpkin at the festival in Oswego broke 1,000 pounds. The best growers in the world have started to close in on the elusive 2,000-pound mark.
Many giant pumpkins are descended from the same lineage and the seeds from winning pumpkins can fetch hundreds and even thousands of dollars.
There is usually a fairly even split between contestants who grow giant pumpkins for fun and skilled pumpkin growers who travel from weigh-in to weigh-in, Hilton said.
"This is big business for them," she said.
Pumpkins may get the royal treatment at the festival, but they are just a small part of what organizers have planned.
Well over 50 vendors are expected, selling everything from food and drinks to crafts and fall décor. Wine and cheese samples will join pizza, Chinese food and American fare.
"It's definitely college student budget friendly," Hilton said.
A corn maze and live musical entertainment will round out the festival, which attracts about 5,000 people each year.
"It's just a great daytime fall festival for people to enjoy," Hilton said.