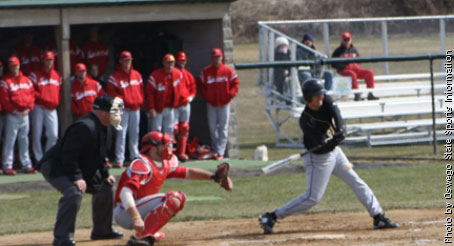 The SUNYAC is not your ordinary conference. In fact, it's one of the top baseball conferences in the Northeast.
The Oswego State baseball team knows how difficult the SUNYAC can be and the one thing that could hurt a team is lack of experience, something the Lakers know all too well. With only three seniors and a handful of juniors on the roster, the rest of the team is compiled of sophomores and freshmen.
Not a good thing for most teams, but this year the Lakers feel it's not that big of a problem.
"It was key to get these young guys college experience in February," head coach Frank Paino said.
During Feb. 18-20, the Lakers played four games in Myrtle Beach, S.C. winning three of them. The trip gave the team a chance to get the young guys their first swing of college baseball and the chance to bond as a team.
"You have to get along and rely on each other," Paino said. "Anytime you take a long trip like that it's a good time to bond or be at each other's throats."
Pitching was key in their three wins and that is expected to be the case for the upcoming season. With a staff led by sophomores Jon Stevens and Dan Erne and juniors Mark Schaper and Marc Peterson, the Lakers walked only a few batters.
"It was definitely our highlight of the trip," Paino said.
Schaper was perfect through five-innings of work and carried a no-hitter on into the seventh-inning.
The Lakers have more arms expected to see action in the regular season, but Paino knows what those guys bring and does not expect to see an increase of walks. This will be a very important piece of the puzzle to success in Paino's book.
"There's no defense for a walk," he said. "It's more detrimental than a single. It takes four-or-more pitches to walk a guy, whereas you could give up a single off of only two pitches. Your pitch total is getting up there. We have a whole lot more pitching that didn't get in down there."
Having strong pitching could be key for the two freshmen behind the mound at key positions on the field. Freshman shortstop Tyler Baker and freshman centerfield Scott Buniak look to control the key positions behind the pitcher, and they have already had a few games under their belts and, come SUNYAC time, will have another six games added to their college careers.
"Two freshmen at key positions both play strong baseball," Paino said. "We just get at it every day in the weight room and Romney Field House."
Since Christmas Break, the Lakers have had a strong workout program, which has contributed to their early success and a trip to Florida for spring break will give the guys more experience for what lies ahead of them.
Once they return from the trip, the hard part is still ahead of them- conference play.
"SUNYAC is just a dirty conference," Paino said. "It's just nasty. Anyone can beat anyone. It's a blue-collar conference very similar to hockey where a seventh-or-eighth seeded team can beat one of the top seeds."
With the limited upper-classmen on the roster it will be a challenge for the young guys as they continue to battle strong opponents on a day-to-day basis.
"You better be ready to roll," Paino said. "[There is] not a whole lot that separates the teams together."
If the pitching and hitting the Lakers saw in Myrtle Beach carries over with them into Florida and then conference play, it could lead to an exciting year for the baseball team. But, just like life, nothing is a guarantee.
"The wheels can fall off the cart at any time," Paino said. "Time's going to tell."