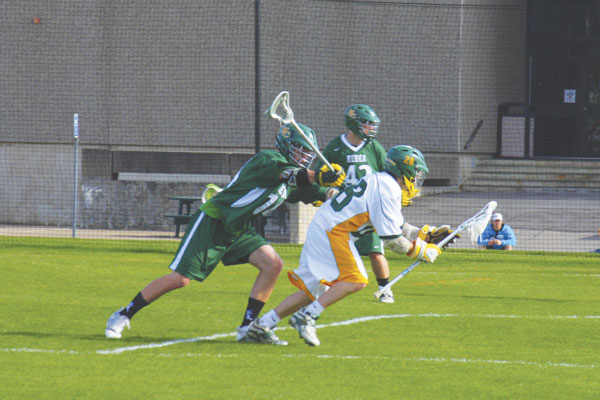 After trailing 2-1 in the early stages, the Oswego State men's lacrosse offense settled down and dominated possession time for the rest of the first half en route to a 16-4 win over non-conference Keuka on Wednesday in Oswego. With two minutes remaining in the first quarter, Andy Lever's (So., Lindenhurst, N.Y.) goal fueled a stretch of 14 consecutive Laker goals through the start of the fourth quarter to put the game out of reach. Oswego State improved to 5-8 overall, while Keuka dropped to 4-8 on the season.
Balanced scoring was the key to success for the Laker offense, as ten different Oswego State players scored. Freshman Chad Smith (Fulton, N.Y.) led the way with three goals followed by a pair of goals by Marcus Peworchik (Jr., Horseheads, N.Y.), Brett Sarubbi (So., East Greenbush, N.Y.), Mike Wiesenthal (Sr., Wappingers Falls, N.Y.), and Lever, who also contributed two assists.
Smith started the scoring 1:29 into the contest with his tenth goal of the season before Keuka responded with a man-up goal from Chris Redington and an unassisted goal by Stephen Ferguson to take a 2-1 lead. Both squads battled back-and-forth through the first until the Lakers began to control the tempo of the game. Their persistence paid off when Lever received a pass from Eric Zerrahn (Jr., Oswego, N.Y.) to tie the contest with 2:04 remaining in the stanza. In the final minute of the frame, Oswego State tacked on two more goals from the sticks of Andy Williams (So., Hamburg, N.Y.) and Dan Wilcox (Sr., Hamburg, N.Y.).
The Laker momentum carried over into the second quarter, as Oswego State scored seven goals in the period to take control of the game at intermission with an 11-2 advantage.
The Lakers could attribute controlling possession time to going 17-for-23 on face-offs with Elliott Couch (Jr., Westtown, N.Y.) leading the way with a perfect 9-for-9. Judd Robinson (Sr., Guilderland, N.Y.) registered the win after recording one save on three shots in the first half, while Zach Harris (Sr., Fairport, N.Y.), Matt Quinones (Fr., Nanuet, N.Y.), and Tom Gropp (So., Fairport, N.Y.) combined to make seven stops in the second half. Storm goalies Brett Leonard and Jon Curry posted 16 saves for Keuka in the losing effort.
The Lakers will recognize their seniors when they host Brockport on Saturday at 1 p.m.